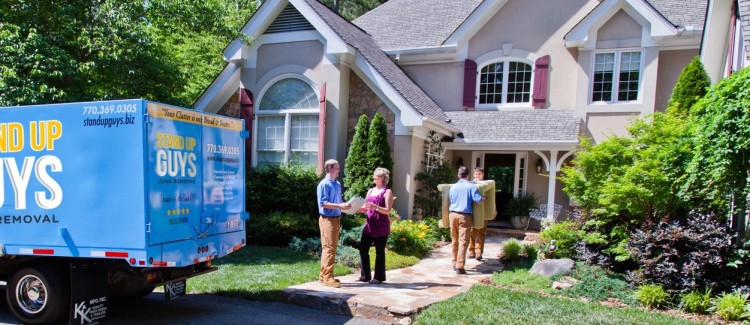 The Stand Up Guys.. More Than Just Junk Removal
The Stand Up Guys Junk Removal Crew offer many different generalized services to our customers from in-town moving to furniture rearrangement inside your home or office. We don't limit ourselves to only junk removal.
Even if you're just looking for an extra hand, the Stand Up Guys offer general labor services, with help from one or more of our uniformed "Stand Up Guys" professionals you can get anything done around the house. We also offer light demolition for both commercial and residential customers. So if you're looking to get an old crummy shed taken down, or even your old deck removed. We can help with both.
If you live in Oregon, Georgia, Texas, Tennessee, Florida, & the North Carolina area, and are in need of a helping hand, or even a big truck, you can call Stand Up Guys Junk Removal! Even if what you need isn't listed here!
General Services
Miscellaneous Services

The Stand Up Guys will personally come and visit you at your property and provide you with a FREE Estimate for all of our services!

Once a price is agreed upon, we will begin working right then and there, and in most cases finish the job that day.
Related Services
Other Helpful Services
What Don't We Do?

In-Town Moving
Furniture Rearrangement
Helping Hands
Large Truck Usage
Merchandise Removal
Store Closure Services
Dumpster Alternative
Estate Clean Out
Scrap Metal Removal
Tire Removal
Battery Removal
Recycling Services
How It Works – General Services & Hauling