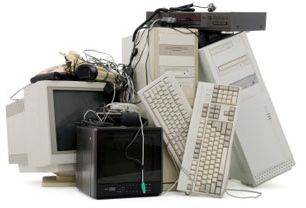 About Computer Removal
Getting rid, or recycling computers can be very difficult, so save yourself the time, trouble, and everything else, and call the experts at Stand Up Guys to take care of all your computer removal and recycling needs.
Have you been holding on to that old computer for years because you don't know the correct way to recycle it? Well don't worry about trying to figure that out yourself.
The only call you need to make is to Stand Up Guys Junk Removal. We save and collect all computers and monitors until the end of every month, at our company storage unit and then dispose of them at the Recycle Center.
Don't try to chuck that old computer or monitor in the trash. Disposing of such electronics improperly can cause negative and lasting damage to the environment. Do the, right thing and call Stand Up Guys Junk Removal, and we will responsibly recycle it for you.
Computer Removal & Recycling also includes:
Printer Removal & Recycling
Monitor Removal & Recycling
Office Appliance Removal
Office Furniture Removal
Apartment Clean Outs