Carpet removal can be a taxing task, especially when you are the only one doing it. Ripping up the carpet, padding and tacks can hours and even days depending on the square footage. That's where The Stand Up Guys Junk Removal Crew come in. We do the ripping up and the hauling, so no more ripping up carpet and having it sit for 2 months in your garage. We make it fast and easy. A previous customer had a situation where she was overwhelmed with the project that awaited her. Little did she know her knights in shining armor where just a phone call away!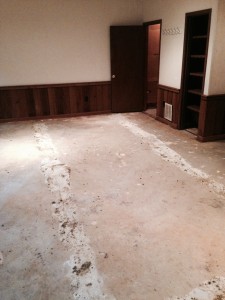 Kelly had recently moved her mom into a new home and was going through the process of cleaning out all the leftovers and trying to make the Marietta home in better condition to sell. Everything in the home was able to be donated except for a few misc items here and there. Kelly had already used us before so she called us for the haul away. Junk removal was just the first step in her process. She needed help making this house pretty again, after all, her mother had lived there for 45 years! Things were out of style and a lot of things needed to be fixed and cleaned up.
The next step for Kelly was to rip up all the carpet in the whole house so she could lay new carpet down and put some hardwoods down as well. Once our crews were out there for the hauling, she was explaining everything she had to do and low and behold, she found out that we could do a lot of the small demos, like the kitchen cabinets and tiling flooring, including ALL THE CARPET! Once she heard that, it was a stress lifted off her shoulders. Most of what she wanted done could be taken care of by one company and over the course of 2-3 days…just what the doc ordered!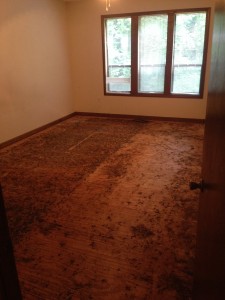 That Saturday, The Stand Up Guys Junk Removal Crew were on the way for the demo and haul off. A crew of four showed up just to make sure we took care of everything she needed us to. Clark and Trevor started on the cabinets and tile while David and Chris got to crushing the carpet. 3,000 sq ft of carpet is no joke, and that's why our best carpet ripper uppers were on the job. They had all the carpet ripped up in 4 hours, while the hard part came next…hauling it to the truck!
After a nice lunch break, the guys were back at it and loading up the truck. Clark and his sidekick were already finished with their part so they joined in. In less than an hour later, the job was done. Swept up and loaded up. We have had our fair share of carpet demos, so it was no surprise to us how quick we finished it, but for Kelly…she was overjoyed! The tacks were all pulled up, the rooms were all swept and we finished it in just one day. Kelly was no able to start her next step of getting her mothers house sold.
Kelly will be a customer for life and we take pride in that. Let us show what we can do for you and I promise once you use us once, you'll never turn back! Stand Up Guys approved!