A Cluttered Garage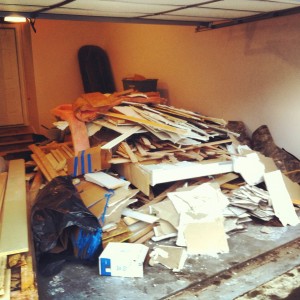 If you have ever walked down into your garage and just been completely miffed on what you were going to do with all the junk filling it up, then this post is perfect for you. If you have ever done some home remodeling and stacked all the excess construction debris in the garage, but once you were finished didn't know what to do with the debris, then this post is perfect for you as well.
If you own or rent a home with a garage, then chances are you have run into a situation where you have too much junk taking up your space. This can happen for a million different reasons; remodeling (like stated previously), storing items in there that wind up turning into junk, stacking up things you "plan" to throw away later (but you put it off too long & then you're stuck with a cluttered garage).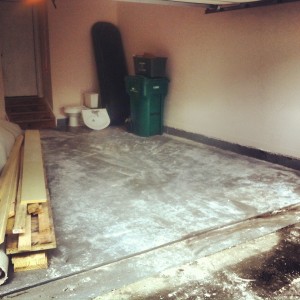 Whatever the reason is that your garage has become cluttered with junk or debris, we can help you solve this age old riddle. The answer to all your garage junk problems is found right here with The Stand Up Guys Junk Removal Crew. We can help you along every step of the way.
We wont just 'walk you through' how to get rid of the junk from your basement. We will actually physically help you to get rid of the junk. Not to mention that we will find a nice comfy home for your items once we leave as well. Anything that is still of good use we will donate and or recycle back into the community. That's much better than just trashing your old items in the landfill.
Garage Junk Removal With Stand Up Guys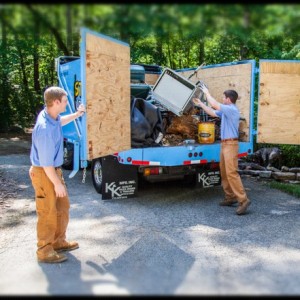 Once you have identified your issue (which is too much junk and clutter in your garage), next all you need to do is pick up the phone and call the gentleman at Stand Up Guys Junk Removal. After that, your job is pretty much done. All you'll have to do is greet us when we arrive at your home and show us what needs to go.
It can't really be that simple, right? Yes, it really is that simple when you are dealing with The Stand Up Guys. We pride ourselves in customer service and satisfaction, so making sure that you are happy is our number one goal. Part of making our customers happy is taking a load off of their shoulders, we do this by taking care of all the labor we possibly can.
A typical garage junk removal job with the Stand Up Guys goes a little something like this;
1. You call into our office, or even simply book your appointment online.

2. The Stand Up Guys will give you a call 30-45 mins prior to arriving at your home in the appointment window that you requested.

3. When we arrive at your home we will then take a look at everything you have and offer you a free, no obligation estimate.

4. If you like the price that is presented to you by us, we go ahead and get started then and there.

5. Once we get started we ask that you get comfortable and let us take care of everything.

6. We clean, clear and haul away ALL the junk that you wanted to get rid of.

7. We will also organize your garage with whats left if you like.

8. We make sure that you are 100% satisfied with everything, once we are sure of that we leave you with your now wonderfully, junk-free, clean garage.