Remodeling Debris Removal in Atlanta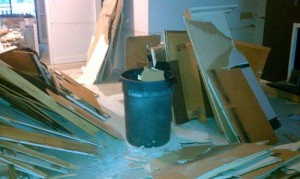 Today the Stand Up Guys Junk Removal Crew had to come to the rescue again. This time it was a contractor that we work with on a weekly, and bi monthly basis. He typically calls us to come in and clean up the sites when he is finished, but today was an emergency.
The contractor called us on Monday of this week, and we came out and clean up the entire construction site til it was spotless, but unfortunately his customer sprung another small project on him last minute. So he went out the next day and replaced a few windows, and patched up a few other things. Thinking he could just throw the windows and other debris in his pick up truck, he didn't call us to come out, but he was wrong.
Instead of it being just a tiny bit of debris, the contractor wound up having a big pile of windows, wood, and other construction debris in the basement. The customer was having a big party that same night, and the debris pile was a massive eye sore, and an even bigger no no.
So naturally the contractor called the crew in a panic, with only a few hours left in the work day. We did what we best, dropped everything, and headed over there to get him out of a jam. We pulled up at around 5:45pm, and the party was supposed to start at 8pm. So we quickly got to work, and started luggin' junk up and down the yard to the truck.
We wound up working to about 7:15pm, with just 45 minutes to spare, but we finished, and like always it was spotless. The contractor was so happy, but more importantly the job was done, and the customer was ecstatic. She was so happy that she tipped the whole crew handsomely, and told all her friends about us.
This was just another day in the junk world for the Stand Up Guys. We do what we can to keep out regular clients, and new customers happy. If we weren't able to finish this job, the contractor would have been out of a wonderful customer, and that same customer would have been out of a good party. We were glad we could help!