Neighborhood Debris Issues
Last Friday we got a call into our Stand Up Guys Junk Removal Headquarters from Naudia, the supervisor for the HOA of a North Atlanta/Brookhaven neighborhood. Naudia went on to tell us that her neighborhood had a little bit of an issue they needed help with and wanted to know if they could count on the Stand Up Guys.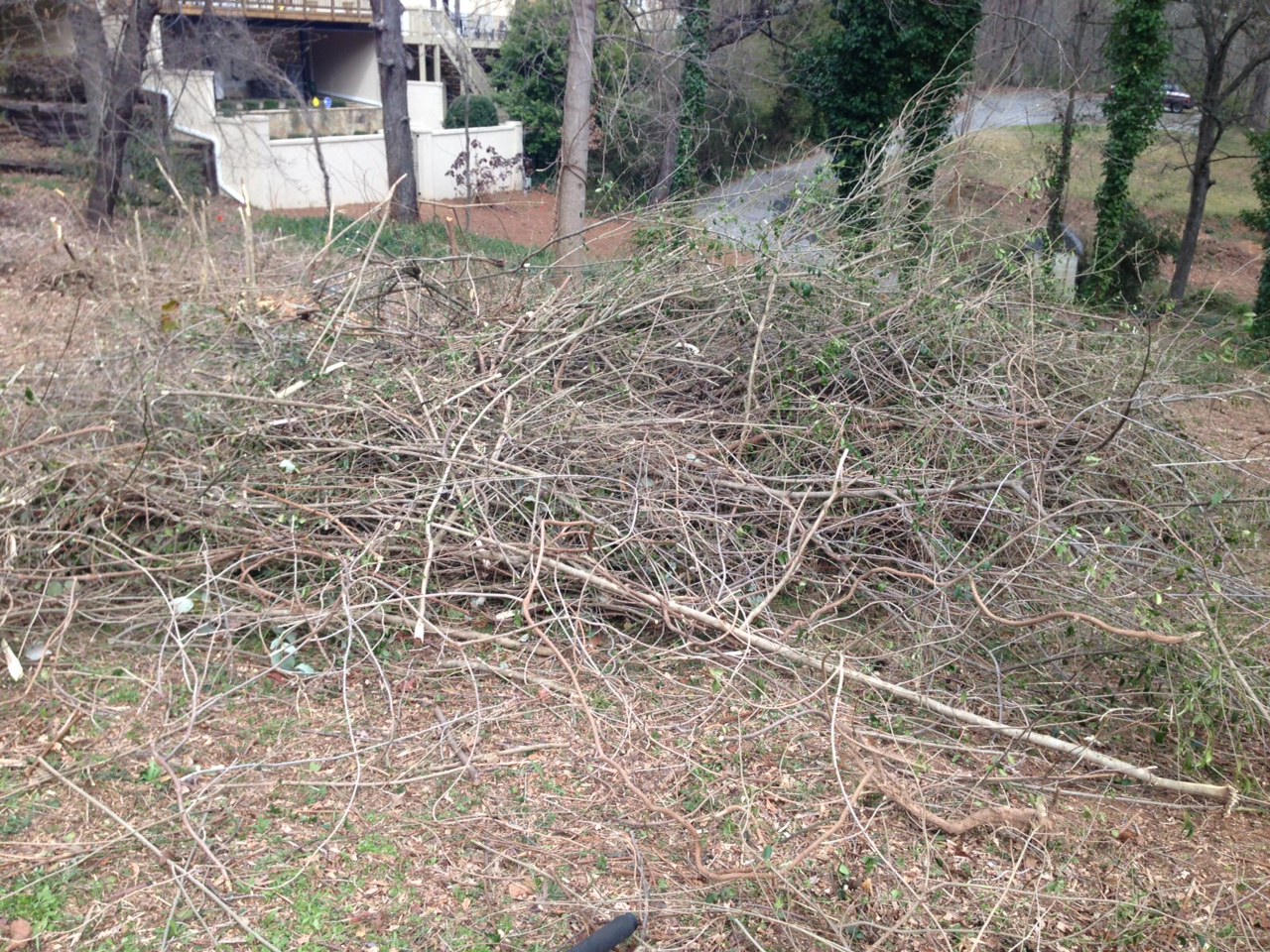 Naudia told Carson, the Stand Up Guy mending the phones that day, that someone had illegally dumped a truck load of yard debris in their neighborhood field by the pool. She said this wasn't the first time its happened, and that that wasn't even the worst part.
The worst part about the illegally dumped yard debris pile was the fact that it was right smack dab in the middle of their neighborhood field where they were holding an event the very next day. Naudia said the event had been planned for months and could not be moved back. She was in serious trouble and was in need of some professional help.
Carson calmed Naudia's nerves by assuring her that she not only made the right call, but that we could get it out of there ASAP. Carson was not about to sit by and watch as someone destroyed the fabric of this neighborhoods moral fiber with a careless act of debris dumping.
Carson told Naudia not to worry and that he would make sure EVERYTHING was A-Okay! As soon as he hung up the phone with Naudia, Carson jumped out of his office chair and sprung into action like a folk junk super hero.
Carson Saving The Debris Day
Carson knew that having one of the crews out there that day was going to be extremely hard given the fact that all our crews were slammed and running at full capacity. This didn't even phase this junk hero though, he knew one way or another he was going to get the job done!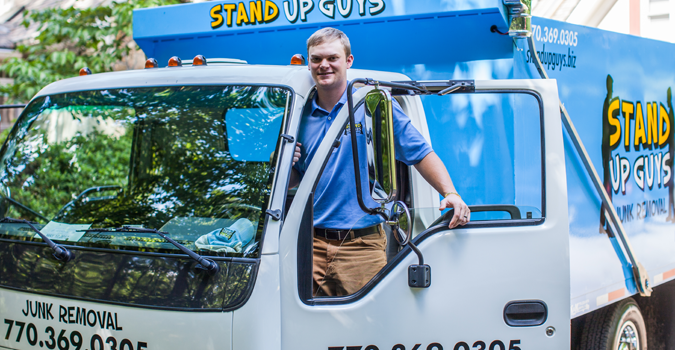 Carson hopped into his own personal truck and headed to the Stand Up Guys warehouse where he knew of an old trailer that the Stand Up Guys had retired back from a few years ago. This trailer might be old, she might be beaten, but she sure as heck is battle tested and can still get the job done. Carson knew with her he could knock this debris pile nightmare 'POW' right in the kisser.
Carson pulled up to the old retired trailer and knew that this was meant to be from the moment he laid eyes on the old girl. He ripped the old tarp off the top of her, wiped off some of the old dust, filled up her left rear tire that was flat, hooked her up to his own personal truck and hit the road. The two of them together were ready to take down any junk obstacle that lay in their path.
All the other Stand Up Guys were out at jobs, Ryan our sales manager was giving presentations all day. There was no one that could help out but Carson. This didn't phase him one bit. He knew that with his experience and determination he could remove this debris pile all by himself. Acapella style!
Gettin' The Job Done!
Carson pulled up to the debris pile in North Atlanta/Brookehaven and called Naudia on the phone. This was only 90 mins from their first conversation. Naudia could NOT believe that he was there that fast! This was customer service like she had never seen before in her life. Top notch stuff.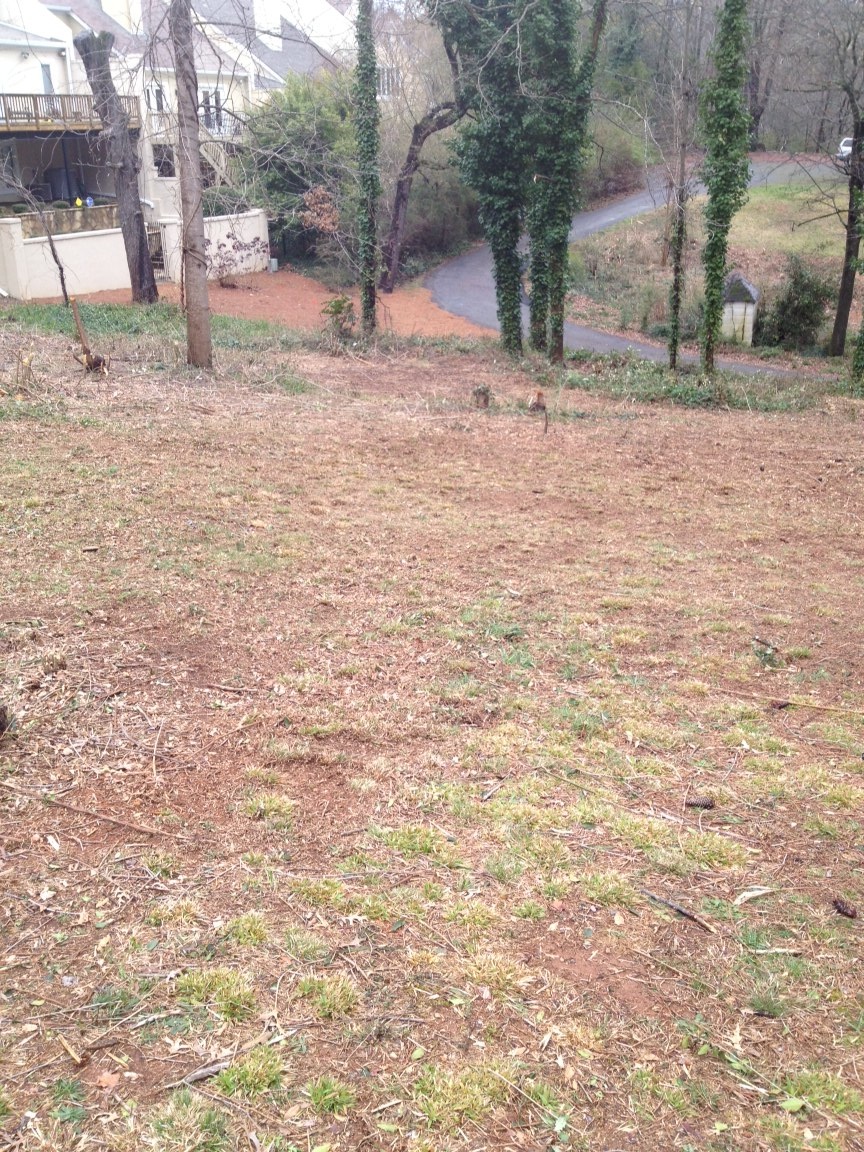 Carson told Naudia that he didn't care if he had to do this all by himself, her debris issue was too important and too urgent for him to worry about anything else. He told her, "Our customers are our family & our families problems are our problems…This pile is getting removed no matter what I have to do!"
Naudia was blown away. She said that she was going to take a step back and let Carson do what he does best, GET THE JOB DONE!
Carson backed the old dusty trailer right up to the pile, strapped up his boots, tightened his belt, put in his head phones (with ACDC blarin'), slipped on his gloves and got to work.
Carson had seen countless piles like this one over his tenor here at Stand Up Guys, so he knew there wasn't going to be any surprises. This was just another day at the office for the old vet.
First he fished through the large pile of debris and pulled out all the largest pieces and put them in the truck first. Then he started to man handle the smaller pieces and chuck them into the trailer in manly handfulls. Before he knew it, the whole thing was gone.
Another Happy Customer
Naudia was so happy that she made the right call to Stand Up Guys. She never in her wildest dreams thought that a company would care so much to help her out of a jam like this.
Carson and his courageous actions changed Naudia's opinion on customer service forever. She said herself that it would be hard for anyone to EVER live up to the standards that the Stand Up Guys set because of Carson.