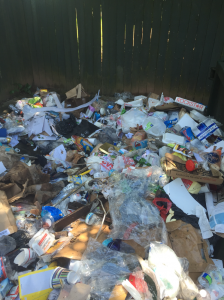 We here at Stand Up Guys have done some dirty jobs, but the dirtiest jobs are definitely at dumpster sites. Usually when we are called out to clean up the area, it is because the dumpster is either overflowing or the compactor is broken which in turn, leaves the residents to start piling up the garbage around the compactor area. That is never a good thing.
Our last dumpster site adventure took place at an apartment complex in Atlanta where the compactor went out, so the garbage piled up pretty quickly.
Cheryl, the complex's property manager, called us and expressed the importance of this disaster. Residents started to complain and eventually people started to dump things that shouldn't go in the dumpster like mattresses, sofas and other furniture.  We sent out our veteran, David G., to take care of this mess. Needless to say, he was eager to take on the challenge and prove yet again his status in the company. He brought his loyal sidekick, Stephen, to help with the job.
Clean Up Time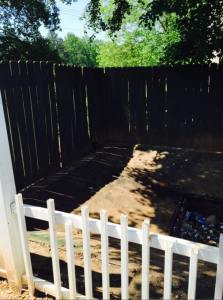 A lot of the bags there were broken and garbage was everywhere around the dumpster! David and Stephen started used shovels to load the truck. Luckily they were able to park next the compactor so they didn't have to walk with all the junk.  David was working on an area that had garage stuck to the ground and before he knew it, he had slipped and almost fell in the compactor!
What seems like a pretty simple job is actually more difficult from what meets the eye. David was working his tail off and it was very slippery. No injuries happened so he got right back up and started crushing again! By that time, Stephen was finished with his half and started to pack up the truck.
They had swept up everything and the site looked as good as new! The property manager had requested after pictures. Once everything was wrapped up, they took the pics and were gone in a flash! The pics were sent and the property manager was relieved she had found a company to help her out. We now do a weekly scheduled stop by there just to make sure everything is the way it should be.
We love helping people out, that's why we do what we do. Hearing out much we helped someone get out of a jam is our motivation and we love doing it. Another satisfied customer and SUG approved!