Marietta's One & Only Stand Up Guys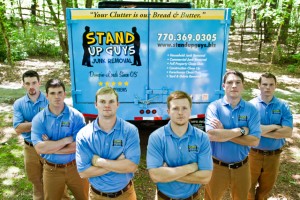 The Stand Up Guys Junk Removal Crew has been around the Marietta area for quite some time now. Helping people with all their junk removal and hauling needs all throughout Marietta and the rest of the greater Metro Atlanta area.
If you live anywhere in the Marietta area and are looking to get rid of some old household junk, yard debris, office furniture, or even get your entire basement cleaned out, the Stand Up Guys are your best bet hands down. The Stand Up Guys are head and shoulders above all the competition in the area for a few reasons. Here's a quick list of just SOME of the things that set us apart for the 'Other Guys'.
List Of Why We're Marietta's Finest
Customer service has been, and will always be our number one goal here at Stand Up Guys. Our customers are the reason we are where we are today and we haven't forgotten that. No matter what happens we make sure that ALL our customers are satisfied with our service.

We might be offering a simple service like junk hauling, but that doesn't mean our customer service is simple. We set out to make sure that every customer of ours has a fantastic experience with us every time, with zero exceptions.
Another reason why we are so popular with the great people of Marietta is the value that we offer with our service. Our prices are just lower than the big franchise competitors, but we offer more for a lower price. You can't beat that.

When you hire the Stand Up Guys to take your junk, you're not just paying for that. You are paying for us to take care of all the loading, lifting and hard work. That doesn't cost you any extra with us. Now that's what I call value!
The Stand Up Guys will show up to your home or business professional looking and clean cut every time, just like Clark looks in the picture here. We take pride in our appearance for our customers sake.

No one wants raggedy, dirty people coming to their home or place of business for any reasons. We not only look nice and respectable in front of you, but also in front of your clients and customers, for those of you that use us for your office clean outs and other commercial reasons.
When we remove junk from your home or office, we don't just turn around and head straight for the landfill to drop all of it off like others companies do. No, we filter through everything we can in order to find out what we can and cannot donate or recycle.

This means you can feel reassured when you hire the Stand Up Guys that your junk will find the right home once it leaves you. Also, you are protecting the environment by us not unnecessarily overfilling the landfills, and helping your community with us donating what we can. Win win.
This is a big one. Many junk companies out there will bold face lie to you and tell you they are insured when they clearly aren't, but we don't. We are fully licensed and insured along with the fact that we carry workers comp for our employees benefit. What does this mean to you?

Well it means that no matter what happens in the case of an accident or emergency that you are fully covered. If you hire an uninsured company and someone gets hurt on the job, their lawyer unfortunately goes after you. It's sad to say but that is the scary truth. Don't worry though, the Stand Up Guys got your back.