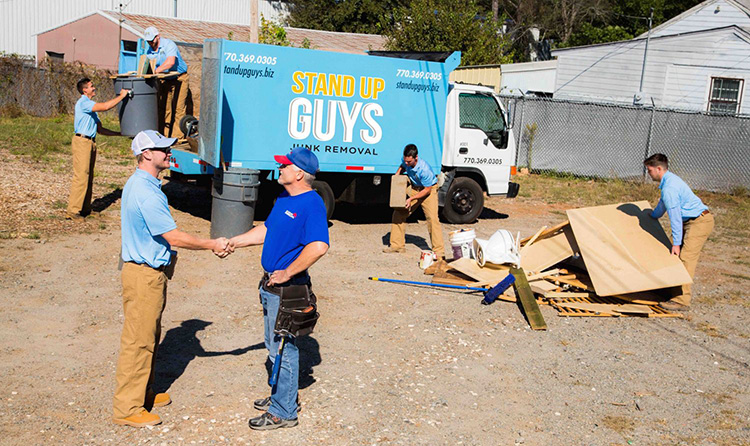 Pasco County's Most Adored Junk Removal Crew
Living, working or owning a business in Pasco County has many rewards and benefits to it. One of the absolute best aspects of being in Pasco County is the fact that you have access to the Greatest Junk Removal Company on the map. Yes, you guessed it, The Stand Up Guys Junk Removal Crew!
The Stand Up Guys Junk Removal Crew cover all of Pasco County from New Port Richey to Wesley Chapel and everywhere in between. There isn't anywhere in Pasco County that The Stand Up Guys don't cover. On top of the fact that The Stand Up Guys cover all of Pasco County, we will also take any and everything you need from your home of place of business. It's a win win when you hire The Stand Up Guys.
All throughout Pasco County we offer many different types of services, from small junk pick ups (like a couch removal) to large property clean outs. On top of everything, we do all the labor as well. This includes the lifting, loading and hauling. We make sure that once you hire The Stand Up Guys for your junk removal issues, your job is complete.
Pasco is a large county, one of the largest and most populated in all of Florida. Pasco has well over 460,000 residents and 150,000 homes. Now that's a lot of people for one county. A large part of that population is centered in Pasco's largest city, New Port Richey. Pasco also has numerous parks, trails, rivers, access to the Gulf, lakes and even nudist colonies. Pasco County has any and everything Florida has to offer in one county.
Pasco isn't just popular because of everything it has to offer inside of the county, it's also popular because of it's location. Pasco County is considered part of the Tampa–St.Pete–Clearwater Metro Area. Many of Pasco's beautiful neighborhoods and suburbs are just a short drive away from the city. Which is extremely desirable to many people. Not to mention the school system in Pasco is second to none.
Cities We Cover In Pasco County
Land O Lakes
Hudson
Holiday
Pasadena Hills