Number One Junk Removal Crew In Tampa Bay
The Stand Up Guys Junk Removal Crew proudly service the entire Tampa Bay Area and all the cities within Tampa Bay. The Stand Up Guys offer home junk removal, office junk removal, furniture removal, clean outs and much more to the residents and businesses of Tampa Bay. Throughout the years The Stand Up Guys Junk Removal Crew has built a strong rapport with the people and businesses of Tampa Bay. We have built that rapport with our strong efforts towards 100% customer satisfaction 100% of the time. We've also earned a strong reputation in Tampa Bay because of what we give back to the place that's been so good to us. We donate and or recycle more than 60% of the unwanted items that we remove. This keeps unnecessary things out of the landfill and helps to give to those who are less fortunate. We also raise money and awareness for Childhood Cancer Research.
Services We Offer Tampa Bay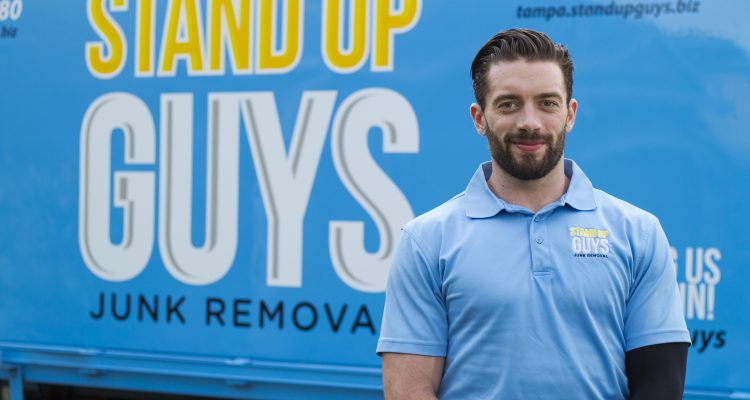 The Stand Up Guys will remove and haul any and everything for the people and businesses of Tampa Bay. This includes household junk, appliances, yard debris, bulk trash or even garage cleaning for those looking to get rid of all the junk, debris and clutter out of their garage. You name it and we'll remove it for you, and we'll make it so that you don't have to lift a finger! Tampa Bay is a large, natural harbor along the Gulf Of Mexico on the west coast of Florida in Hillsborough County. Tampa Bay isn't actually a city or municipality but over the years all the cities and towns around the Bay have become known as being part of 'Tampa Bay'. This is due to many things, especially the Major Sports Teams here like the Tampa Bay Bucs, Tampa Bay Lightning and Tampa Bay Rays. Some are in Tampa, some are in St. Petersburg, but to most of us they're just in Tampa Bay! Tampa Bay has been home to humans for quite a long time. Sources date the first human settlers living in Tampa Bay more than 6,000 years ago. The Spanish settled and lived in the area dating back to 1584, when they referred to it as 'The Bay of The Holy Spirit'. Tampa Bay has been part of the U.S since 1890 when it was purchased from the Spanish. It's been thriving in American Culture every since. The Stand Up Guys Junk Removal Crew cover all of Tampa Bay. This includes all of Hillsborough County, Pinellas County, Pasco County, Manatee County and Sarasota Counties. We service all of the cities within those counties as well, like Tampa, St. Petersburg, Clearwater, Brandon, Riverview, Wesley Chapel, Palm Harbor, Bradenton and Odessa just to name a few!