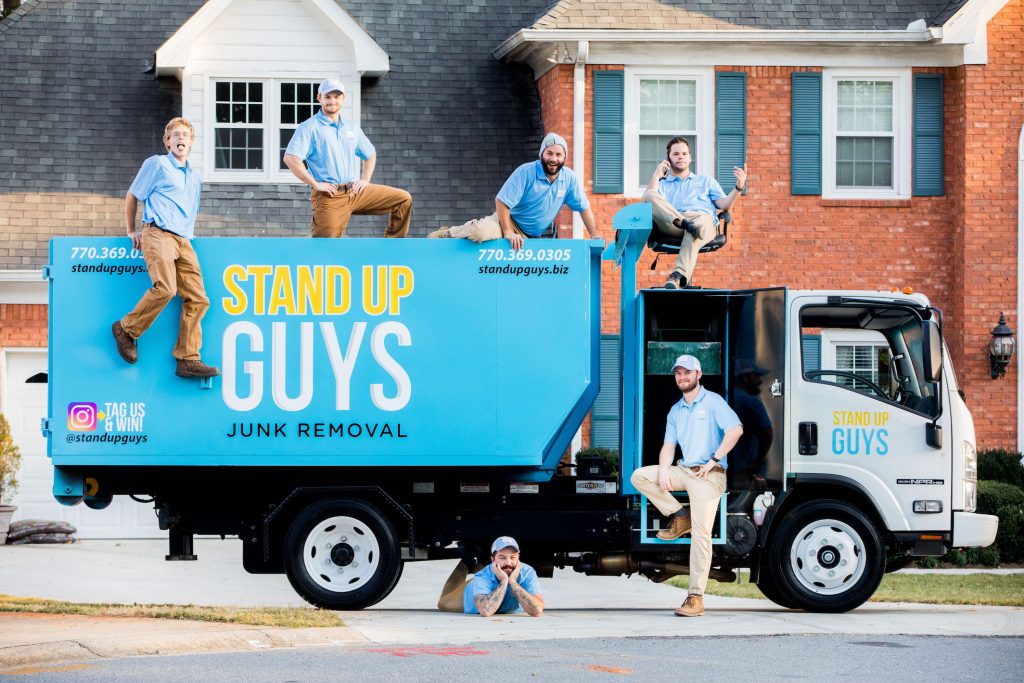 Tampa's Favorite Junk Removal Company
Stand Up Guys Junk Removal proudly serve all of Tampa and the entire Tampa Bay Area. We offer Tampa all of our awesome services, including: Residential junk removal, commercial junk removal, property management, light demolitions and much much more.
If you live in the Greater Tampa Bay area and are in need of a junk removal company, look no further than the Stand Up Guys. We've got your back. We've built our strong reputation throughout the years with our solid base of customer service, quality and care. That is exactly what you will get with the Stand Up Guys Junk Removal Crew 100% of the time. The Stand Up Guys that come to your home or place of business are always clean cut, honest and respectful of both you and your home or business.
The Stand Up Guys Junk Removal Crew love the city of Tampa, and that is why we give back as much as well can. We try and do our part by donating and/or recycling every possible item we can. When we remove your junk, we don't just drive straight to the landfill and dump it off. No, we do everything we can to try and find it a new home. It helps the people in need in Tampa and it saves the environment from one less thing being tossed away.
Junk Removal Services We Offer In Tampa, FL


Eco-Friendly
Junk Removal Solutions
We take all the necessary steps to remove. recycle or donate all the items we can. We're a locally owned and operated company. We take pride in donating items back into our community and helping our environment by recycling.
Easy, Breezy, Japanesy!
Junk removal services for Mindy
⭐⭐⭐⭐⭐
Wow! What a hassle-free way to get rid of clutter, without having to worry about sorting it all out! VERY professional, timely and courteous Highly recommend!
Carpet removal services for Lee F. Marietta
⭐⭐⭐⭐⭐
These guy's are Great!! They came out last minute and helped me in a pinch. They loaded everything and cleaned up the Whole area!! Plus they were very affordable!! And Friendly!!! Our go to guy's for junk and debris clean up.. Stand up Guy's Rock!!!!
junk hauling services for Kevin L.
⭐⭐⭐⭐⭐
I had a lot of boxes from moving and a few bags of trash that had piled up. Called stand up guys based on their reviews. Two gentleman showed up, went over what I wanted them to do and haul of, they gave me a price and went to work. They were very professional, called when they were on their way and was in and out in no time. I would suggest using Stand Up Guys junk removal and if I need to have anything else hauled off I will be using them again. Locally owned and operated which is a huge plus in my book.
Furniture removal services for Carolyn B.
⭐⭐⭐⭐⭐
These guys were the best!!! Really reasonable prices and they were very professional! We will be calling them again and would refer them to friends and neighbors!!!
Appliance removal services for Trey K. Downtown
⭐⭐⭐⭐⭐
Wow! Highly recommend these guys, they were fast and thorough. Extremely professional and upfront about any costs or changes in costs. I used them for a backyard clean up, and I don't even recognize the backyard now.
Electronics removal services for barbaraaderholt
⭐⭐⭐⭐⭐
Amazing ! Stand Up Guys crew did an amazing job. I would recommend this company to anyone who needs a junk removal services!
Appliance removal services for CernaOrlando47
⭐⭐⭐⭐⭐
Just to let this company know my mother was very pleased with the work. Thanks for the best service! I would highly recommend Standup Guyz Junk Removal to my friends.
Yard Debris removal services for SharmaRebecca92
⭐⭐⭐⭐⭐
Thank you very much for doing such a great job. All in all an excellent experience. Thanks Standup Guyz Junk Removal for the wonderful service!
Hot Tub removal services for joeylucky
⭐⭐⭐⭐⭐
Used Stand Up Guys for the first time. Easy to make appointment. Arrived on time. chris was polite, professional and very quick. Will definitely use them again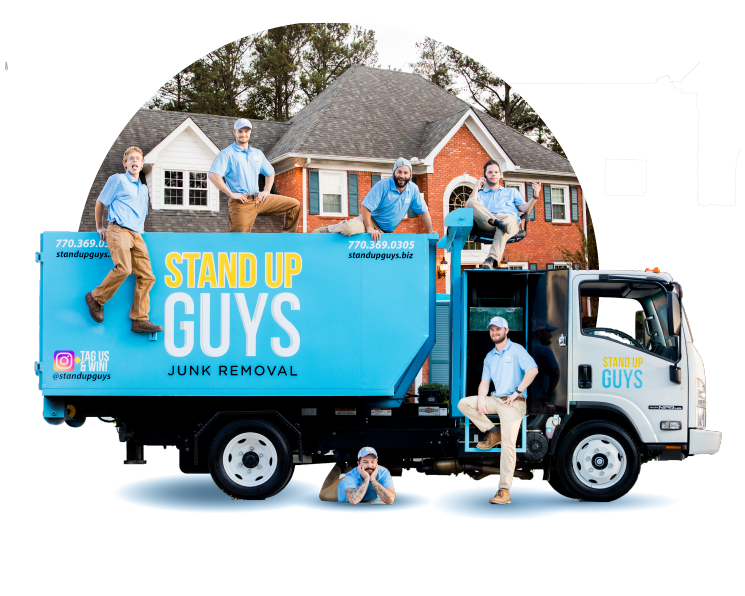 Haulin' & Ballin'
Transforming The Junk Removal Industry
The Stand Up Guys Junk Removal Crew have transformed the industry known as Junk Removal. We've turned what was once a normal, humdrum task that annoyed your everyday home owner into an invigorating experience for the whole family. There's nothing more exceptional than sitting back as a family and watching as the junk that once cluttered your home disappears forever. Definitely when you don't have to even lift a finger!
How did The Stand Up Guys transform 'junk removal'? Simple, we made it so that your everyday family, home owner or small business can get rid of as much or as little amount of junk & debris as they fancy. All this without them having to break a sweat. Allowing The Stand Up Guys to manage your junk removal and hauling needs is as simple as 1,2,3!
DIY Junk Bucket
Junk Bucket Dumpsters are an excellent choice for all you do-it-yourselfer's out there who are trying to get rid of junk, debris and clutter from around the house or yard. If you have yard debris from clearing or cleaning the lawn, junk from a home improvement project, leftover junk from a recent move, or you're just flat out looking to de-clutter your home, The Junk Bucket is precisely what you require!
The Junk Bucket isn't your commonplace, hideous, unsightly, stinky dumpster. Nope, Junk Buckets are one of a kind, home dumpsters. They're always clean, driveway safe, and aesthetically pleasing to the eye. Junk Bucket Dumpsters are not only great for you, but your neighbors will appreciate it as well. They'd rather look at a beautiful Junk Bucket on your property than an ugly tradition dumpster while you de-clutter your home.
Tampa is a wonderful and vast city, and is growing at an incredible rate. Once you've been here once, you never forget. The population inside the city is upwards of 346,000 people, each and everyone of which the Stand Up Guys cater to. When you factor in the entire metropolitan area there are right about 4 million residents and counting.
We're not the only ones that think Tampa is a great city either. Forbes Magazine ranked Tampa 5th overall of Best Outside Cities. You can't beat the awesome Tampa weather. Tampa was also ranked number 1 for best "20 somethings" city.
The Stand Up Guys cover all of Tampa and its incredible residents, from the Sunshine Skyway Bridge to the Tampa Theatre and everywhere in between. You won't find a better Tamp Junk Removal Company than the Stand Up Guys!
The Stand Up Guys Junk Removal Crew cover all of Tampa and the surrounding cities from our central location at 1907 W. Kennedy Blvd Tampa, FL 33606.
Other Tampa Cities We Cover
Downtown Tampa
Forrest Hills
Ballast Point
Sulphur Springs
Stand Up Guys of Tampa – The Greatest Junk Removal Company on Planet Earth