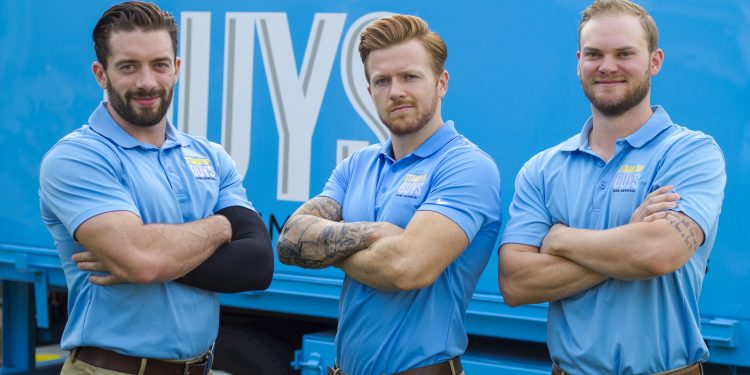 Tarpon Springs Most Adored Junk Removal Crew
There are a lot and I mean A LOT of great reasons to live in Tarpon Springs. It's a beautiful community and has just awesome people, but one of the number one reasons to live in Tarpon Springs is the fact that you have access to the greatest junk removal company there is. The Stand Up Guys Junk Removal Crew!
The Stand Up Guys Junk Removal Crew service all of Tarpon Springs. From Old Tarpon Springs High School to the Downtown area and everywhere in between, The Stand Up Guys cover it all. Not only do we cover all of Tarpon Springs, but we cover all of your junk removal and hauling needs as well. You name it and The Stand Up Guys will remove it. We take any and all types of junk, including household furniture, yard debris, hot tubs, sheds, or any type of home junk!
The Stand Up Guys have built an enormously strong rapport with the residents and businesses of Tarpon Springs over the years. We've built that reputation because of our efforts towards customer service, value and 100% satisfaction. Not to mention, our customers love that we donate and or recycle more than 60% of the items that we remove, back into the community. One man's junk can still be another man's treasure.
Services We Offer Tarpon Springs
More About Tarpon Springs
Tarpon Springs is one of the larger and more desirable places to live in all of Pinellas County, with more than 23,000 residents that call Tarpon Springs home. That's a lot of people to fit into a small space, Tarpon Springs is only 16 square miles in size. A little unknown fact about Tarpon Springs is that it has the highest population of Greek Americans in the country.
Living in Tarpon Springs isn't the only awesome part, it's a wonderful place to visit as well. The shops along Dodecanese Avenue in the Sponge Docks District are a historic and incredible tourist destination. The street winds its way from the bayou towards the Aquarium. Along the way it passes the marina and Sponge Boats docked along the north side of the street and the Historic Sponge Exchange on the south. Just an awesome place to visit.
If you're convinced and ready to move forward with getting your junk or debris removed from your home or business in Tarpon Springs with The Stand Up Guys, then don't worry, the process is simple. Either pick up the phone and give us a call at 813-512-0480 or you can even go ahead and book your appointment online!