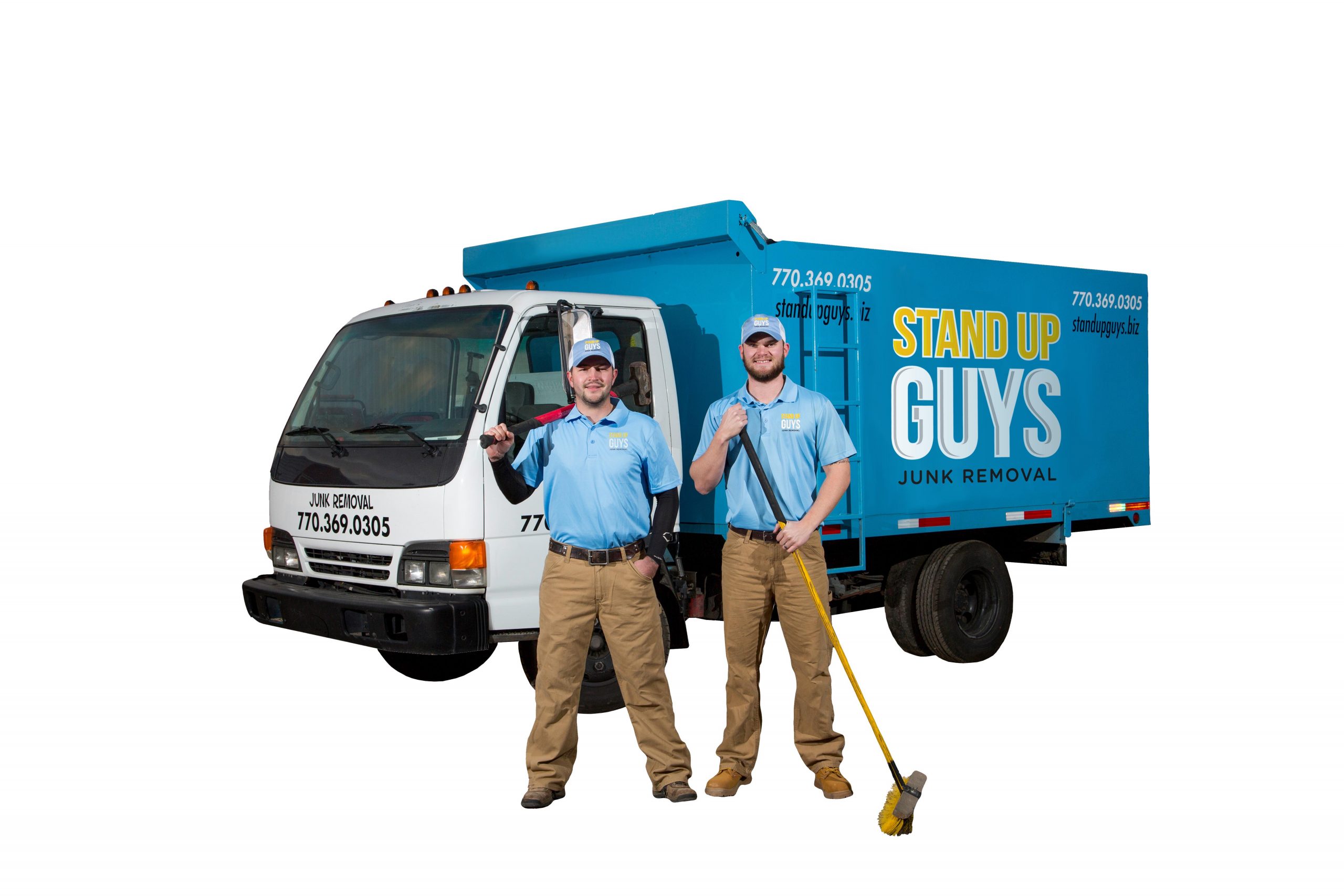 Winter Garden, FL's Most Adored Junk Removal Crew – The Stand Up Guys
Do you ever look around your home and wonder "How did all this stuff get here? Why do I have so much junk?" If so, then join the club. Everyone seems to compile junk over the years, it's just part of life. The issue isn't 'why' but instead it's 'how.' 'How' do I get rid of my junk!? It's an age old question that many have been trying to answer for a long, long time. For all of those with this burning question, I come with great news. At least for all of those that live or work in Winter Garden, FL that is. The answer to all your junk issues in Winter Garden is The Stand Up Guys Junk Removal Crew!
The Stand Up Guys are the number one option for junk removal and all types of junk hauling in Winter Garden. No matter what you are looking to have removed, The Stand Up Guys can assist you. Looking to get rid of that old busted up couch? Stand Up Guys can help. Maybe you're looking to clear ALL the junk stacked in your garage that's been collecting dust since the early 2000's? Don't sweat, Stand Up Guys have got your back. Big or small, the Stand Up Guys haul it all!
Winter Garden has fallen in love with The Stand Up Guys Junk Removal Crew over the years. We've earned a stellar reputation in the area over our time here for quite a few different reasons. Winter Garden loves The Stand Up Guys because of our amazing customer service and our never ending quest for perfection when it comes to overall customer care. They have fallen in love because of the incredible value we offer our customers, you can't beat what The Stand Up Guys offer. Winter Garden has really fallen hard for The Stand Up Guys though, because of what we do with your items AFTER we leave you. We do all we can to find a home for your items after we remove them. We donate and recycle all that we can. If there is a second home, we'll definitely find it.
Stand Up Guys Junk Removal Services We Offer In Winter Garden, FL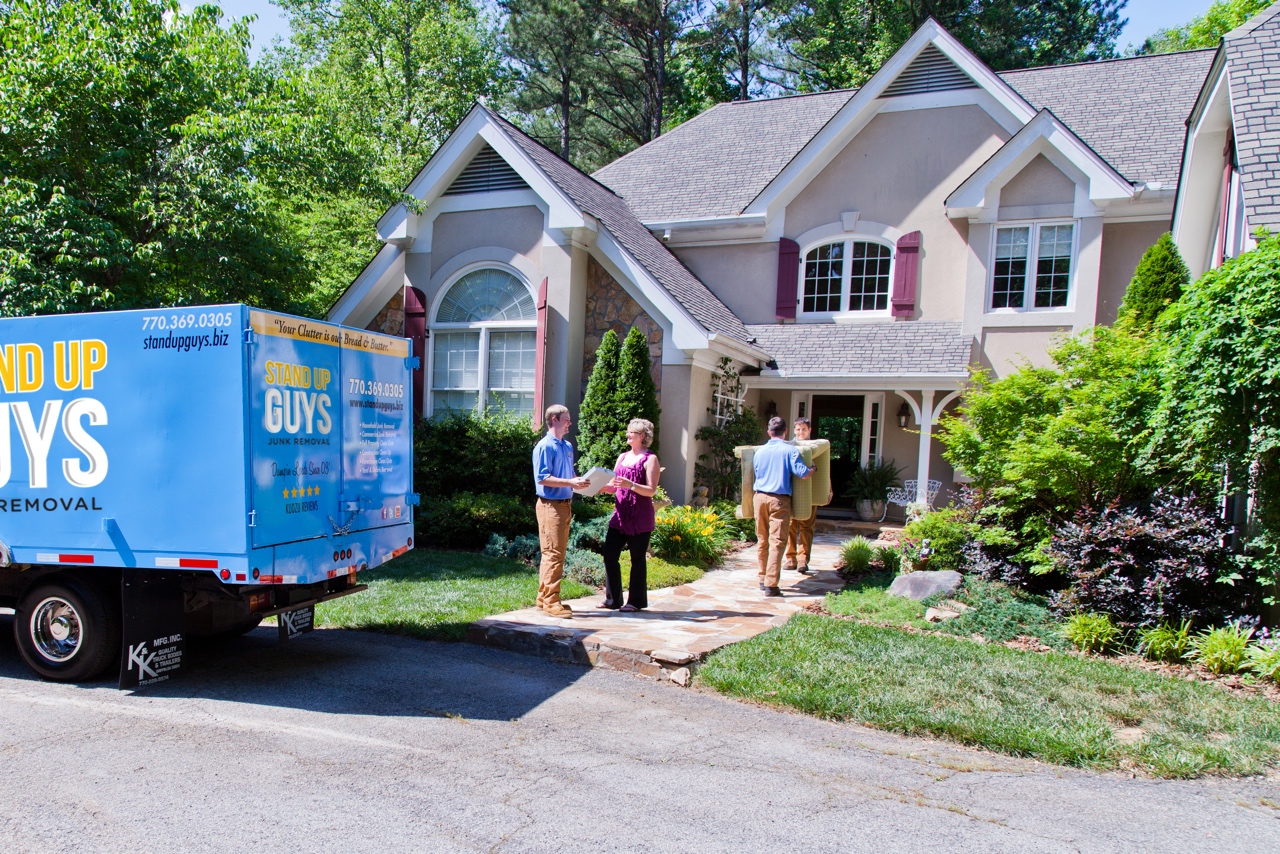 More About Winter Garden Junk Removal
With a whooping 46,000 resident and growing, Winter Garden is easily one of Metro Orlando's biggest and most popular cities. Winter Garden is filled with rich history as well. I mean, heck, the city dates all the way back to the 1850's when it was still called Beulah. Along with rich history, Winter Garden is also home to the famous and the elite. Like Mr. Ken Griffey Jr just to name drop a little. Another little fun fact about Winter Garden; The city has the highest elevation in all of Orange County. Maybe at some points of Winter Garden you can get a birds eye view of the rest of Metro Orlando!
There are tons of perks and great reasons to live in Winter Garden. Schools are good, golf courses are top notch and just all around there are tons of things to do. The number ONE reason to be in Winter Garden though, is the fact that being here means you have access to the Greatest Junk Removal Company on Planet Earth; The Stand Up Guys! The Stand Up Guys are proud to call Winter Garden home and we would do anything to help our customers, so when you're finally ready to rid yourself of your junk, give us a call… 407.900.0604.
Winter Garden Neighborhoods The Stand Up Guys Service
Alexander Ridge Manors
Amberleigh
Avalon Reserve
Bay Isle at Black Lake
Belle Meade
Black Lake Park
Bradford Creek
Brandy Creek
Bronsons Landing
Cambridge Crossing
Carriage Pointe
Chapin Station
Cobblestone
Courtlea Oaks
Courtlea Park
Covington Chase
Crown Point Springs
Deer Island
Daniels Crossing
Daniels Landing
Deerfield Place
Emerald Ridge
Fox Crest (at Stone Crest)
Fullers Crossing
Glenview Estates
Glynwood (at Stone Crest)
Grovehurst
Hamlin
The Harbor
Hickory Hammock on Johns Lake
Horizon Oaks
Hyde Park
Inland Seas
Island Pointe
Johns Lake Pointe
King's Bay
Lake Cove Pointe
Lake Roberts Landing
Lakes Of Windermere
Lakeview Reserve
Latham Park
Magnolia Woods
Oakglen Estates
Oak Park
Oaks at Brandy Lake
Oakland Park
Orange Cove
Old Thicket Trace
The Orchard
Park Avenue Estates
Park Place at Winter Garden
Regal Pointe
Grove Park (at Stone Crest)
Hamilton Gardens
Regency Oaks (at Stone Crest)
The Reserve at Carriage Point
Southern Pines
Sterling Pointe
Stone Creek
Stone Crest
Stoneybrook West
Summerlake
Teacup Springs
Timbercreek Pines
Traditions
Trailer City
Trails of Winter Garden
Tucker Oaks
Tuscany
Valencia Shores
Village Grove
Watermark
Westbrook Townhomes
Westfield Lakes
Westside Townhomes
Windermere Crossing
Windtree Garden Condos
Winter Oaks
Wintermere Harbor
Wintermere Pointe
Winward Cay