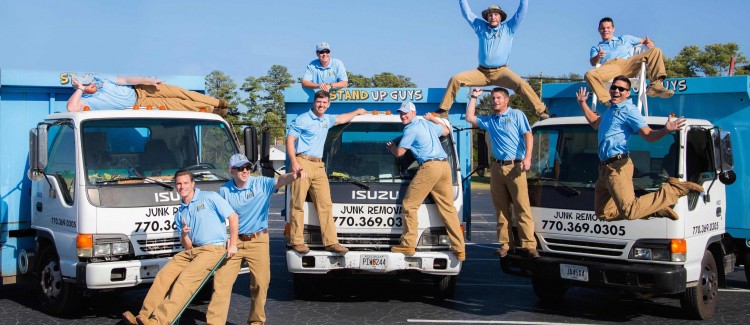 Decatur's Most Admired Junk Removal Company
Decatur covers a large area of Georgia, with its population at 18,147 people, and Stand Up Guys Junk Removal Crew is here to help every person and every last inch of Decatur with all their junk and debris removal needs. Heck, we've been helping the awesome residents and businesses of Decatur for over a decade now and we have the happy customers to prove it.
Stand Up Guys Junk Removal covers all of Decatur, GA, from Clairemont Historic District all the way to the Methodist Chapel. We absolutely love this city and this community for countless reasons. One of the many reasons The Stand Up Guys love Decatur so much is the wonderful motto, "A city of homes, schools, and places of worship!"
The Stand Up Guys Junk Removal Crew have worked vigorously around the Decatur Community in order to earn the love and respect of the residents and businesses of Decatur. The Stand Up Guys are Decatur's best choice for all their junk removal needs.
We will take any and all items for our Decatur customers including: home appliances, furniture, carpet, and even hot tubs. Also, we offer full clean out services of the inside and outside of both homes and offices. Our junk removal crew is full service and we aim to please our Decatur customers, with the best customer service, and most affordable prices there are, and not to mention that we do all the loading and lifting.
Junk Removal Services We Offer Decatur
Stand Up Guys Junk Removal Covers all of these Decatur Neighborhoods.
Adair Park
South Candler Street-Agnes Scott College Historic District
Chelsea Heights
Clairemont – Great Lakes & Clairemont Historic District
Clairemont Gateway Association
Decatur Heights
Downtown Decatur
EverGreen Forest
Glennwood Estates
MAK Historic District
Oakhurst
Parkwood
Ponce de Leon Heights
Ponce de Leon Court Historic District
Sycamore Street
Westchester Hills
Winnona Park Historic District
Midway Woods
Decatur Fun Fact – Rapper and singer B.O.B resides in Decatur, and females take up over 50% of the population.
Check out the Regional Manager in Your Area. Atlanta Regional Manager
Find out all of What We Haul in Decatur
From our central location at 1773 Monroe Drive NE, Atlanta, GA 30324, Stand Up Guys Junk Removal covers these Decatur Zip Codes: 30808, 30030, 30031, 30032, 30033, 30034, 30035, 30036, 30037