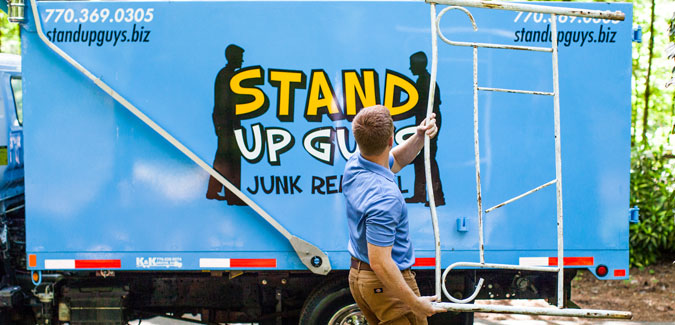 #1 Junk Removal Company In Avondale Estates
Avondale Estates may be one of the smaller cities in Dekalb County, but Stand Up Guys Junk Removal is here to help all 2,609 of Avondale Estates residents and families. Avondale Estates is a beautiful part of Atlanta filled with gorgeous Georgia trees, and it's known for having some of the best climate conditions in Georgia.
Over the last decade, The Stand Up Guys Junk Removal Crew has been building our incredible reputation in Avondale Estates. We are quickly becoming their favorite, most dependable junk removal company. We plan on keeping this up, and soon, we hope to be Avondale Estates favorite all around service, not just for junk removal services.
For our Avondale Estate customers we offer the best customer service, and most affordable prices, with up-front pricing and free estimates on all our services. Some of those services include: full property clean outs, basements and attics. We will remove any kind of junk, from old furniture, to yard debris , and fallen trees. If you live in Avondale Estates and are in need of a junk removal service, look no further than the Stand Up Guys!
From our central location at, 1773 Monroe Dr NE Atlanta, GA 30324, The Stand Up Guys Junk Removal Crew covers these Avondale Estates zip codes: 30002
More About Junk Removal Avondale Estates
Avondale Estates Fun Fact – Avondale Estates is well-known for opening the doors to the very first Waffle House in 1955 (the Stand Up Guys love some Waffle House).
Check out the Regional Manager in Your Area.–Atlanta Regional Manager.
Find out everything We Haul in Avondale Estates…