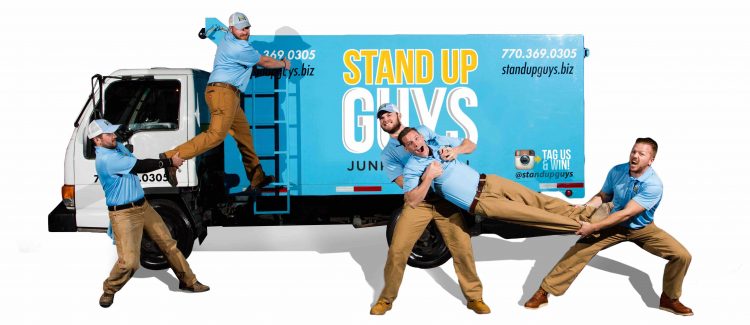 North Decatur's Finest Junk Removal Service
North Decatur is known for its many wonderful churches and parks. It has many beautiful sights and scenery, along with an awesome historic district. The Stand Up Guys can handle all of North Decatur's junk removal needs. North Decatur has a population of 15,270 people, and Stand Up Guys is here to serve every last one of them and their families, with our outstanding junk removal service. Stand Up Guys Junk Removal covers all of North Decatur, from Mason Mill Park all the way to North Decatur Presbyterian Church.
The Stand Up Guys Junk Removal Crew offers North Decatur Residents value and customer service (which is hard to say for many other businesses these days) especially with the way the recession has affected us all. We realize the way the recession has affected everyone, so that is why we try to work out the best possible prices and deals for all of our customers, this is one of the reasons we have such a strong reputation in the North Decatur community.
Another reason is the fact that we donate a large portion of the items we receive back into the community and/or recycle them. If you live in North Decatur and are in need of junk removal, look no further than Stand Up Guys!
Here are a few of the Neighborhoods Stand Up Guys covers in North Decatur:
Clairmont Heights.
Country Squire Court.
Druid Lake.
Leafmore-Creek Park Hills.
Medlock Park.
North Druid Valley. .
North Druid Woods.
Winston Place.
Valley Brook Estates.
Stand Up Guys Junk Removal covers these North Decatur Zip Codes: 30033
More About North Decatur
North Decatur Fun Fact – There are upwards of 8,000 households in North Decatur, which 14% had children under the age of 18 living there. North Decatur is a very family oriented city.
Check out the Regional Manager in Your Area. Atlanta Regional Manager.
Find out all of What We Haul in North Decatur