How To: Getting Rid Of Junk & Clutter From Your Home
If you have recently looked around your home and realized that you need to seriously shred away some of the excess clutter and junk, then this article will be perfect for you. We have the perfect 5 step program to getting rid of household junk yourself, or even the all-in-one program with the Stand Up Guys Junk Removal Crew.
5 Step DIY Junk Removal Program
Step 1. Identify the junk & clutter

The first step you need to take is to find out EVERYTHING you want gone. You don't want to start on your junk removal journey without knowing exactly what you want to get rid of. This can save you a lot of time and headache in the long run. Find out what you want to get rid of now, so that you can focus on the work later.
Once you have decided what all you want gone, next you need to map out what your plan of action is. I.E. Where you are going to donate what you can, where the dump is, or who you're going to hire to rent you a dumpster, and who are you going to get to help you. You don't want to wait til the last minute to ask a friend to help you with your junk issues. Make sure you have all this down before you start.
Step 3. Sell and donate first

Once you get started, just filter through everything that you have. Filter out what you believe you can donate and or recycled. Once you have all that together. Take it to the nearest Goodwill or other non profit organizations that accept donations. You already took care of where you were going to take it in step 2, so you wont have to spend time on finding a place.
Step 4. Pile up and organize whats left

Once you donated everything you could, now it's time to pile up the rest. When dealing with DIY junk removal, it's best to have everything that is going in a nice neat pile. The last thing you want to do is be scattered when you are hauling away the junk. It's nicest to have it all together, so the thinking aspect doesn't apply.
Step 5. Rent Dumpster/Truck

Now that everything has been donated and all the junk that is left over is waiting neatly in a pile. All you have to do is either rent or borrow a truck or rent a dumpster. You already decided what you were going to do is step 2, so this shouldn't take long. If you get a truck, just back the truck up to the pile, load 'er up, and take it to the nearest dump or landfill. If you hire a company to drop a dumpster, just have them back the dumpster right up to the pile, and load 'er up. Then you're done!
All-In-One Junk Removal Program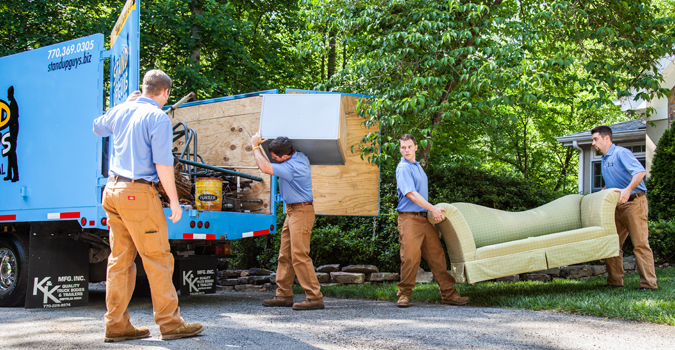 Now if those 5 steps seem like a lot to you, or seems like it would take a toll on your back then your could use the All-In-One Program, or was we like to call it. Stand Up Guys Junk Removal.
When you use the Stand Up Guys Junk Removal Crew to take care of the junk in your home, all you have to do is pick up the phone and call. That's it, after that your job is done. You don't have to separate, or move a single item.
The Stand Up Guys will pick a time that is right for you. We send out two uniformed professionals to offer you a free quote on everything. They guys always come with an empty truck, so that if you like the price presented to you we can go ahead and take care of everything right then and there.
Just point out what you want gone, and we take care of the rest. We sort and filter through everything, we do all the donating ourselves, we do all the loading and lifting ourselves. We basically take care of everything for you so that you don't have too. Beautiful.
Now that you are informed on the different ways to get rid of household junk, you make the decision that is best for you and your family. Good luck and happy junk'n.