Storm Clean Up In BridgeMill, Woodstock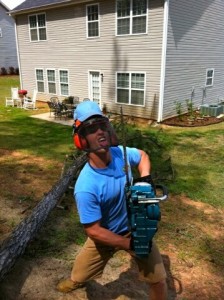 With all the storms of late, there has been a lot of trees and big limbs that have fallen. If you have had this happen in your yard or around your home The Stand Up Guys Junk Removal Crew can help you. Stand Up Guys Junk Removal doesn't just take "Junk" no, we do so much more.
We can help you with a full clean up of your yard or garden, we understand that it can be especially hard by yourself if you were affected by the storms. We cut up and dispose of fallen down trees, all their limbs and other yard debris. If you have debris in your yard and don't feel like cleaning it all up, we can do that for you too. Stand Up Guys are your one stop shop for yard clean up, and disposal.
Today we got to have a little bit of fun in BridgeMill, a massive community inside of Woodstock. We always love a chance to use a chainsaw, I mean who doesn't. This customer in particular called us and said she needed a tree cut up and removed from her home. the tree had fallen when the storms came late last week, so she was in a hurry to get it out of her site.
When we pulled up to the house we could see this massive fallen tree in the backyard, all the way from the street. We knew right away that was what she needed cut up and hauled away. So we got our safety gear on, revved up the chainsaw and got to work.
The customer changed her mind halfway through the job, she decided she wanted to keep most of the wood for fire wood in the future. We had no problem with this, so when we cut up the tree, we cut into two feet sections and lugged them up her back yard and placed them in a pile for her. People change their minds all the time on us, we never mind though because, the customers needs always come first.
We were able to shave off a lot of the cost for her since there wouldn't be any disposal fees. She was so happy though with the job we did, in the time we did, that she paid the original amount instead. What a nice lady. Here are a few of the pics we took during the job, enjoy.