While out and about running errands, Janet (a new potential Stand Up Guys customer) noticed one of our Stand Up Guys Junk Trucks traveling down N Salem Street in Apex. As soon as Janet saw the big, beautiful baby blue dump truck she remembered that she badly needed to get rid of some of the junk piling up in her house. Janet had called a few companies the day before, but didn't like any of the people she spoke with. The sight of the Stand Up Guys Junk Truck made Janet feel comfortable and that maybe these guys were different.
Janet did what any normal person would do. She flipped a u-ey and followed the SUG truck until it stopped. Luckily that wasn't long. The Stand Up Guys pulled into a gas station just a mile down the road to fill up. Janet approached the truck once Spencer and Austin (a couple of Stand Up Guys) hopped out at the pump.
Spencer and Austin get these types of requests all the time, so Janet approaching them wasn't a shocker. She walked up, introduced herself and explained what she needed done at her house. Austin went on to chat with Janet and tell her everything we do and even how we charge. Janet was blown away by how nice and polite these guys were. This was such a different feeling than she got from the other junk companies.
Janet was sold. She wanted to hire The Stand Up Guys. "When can you guys come to my house to take a look at what I need removed" asked Janet. "The two of us can be out after our next appointment today. Say 2-4pm. Would that work" replied Austin. "NO WAY!? I love you guys already" said Janet. The two exchanged information and Austin put Janet on the schedule for that day.
Removing Junk In Apex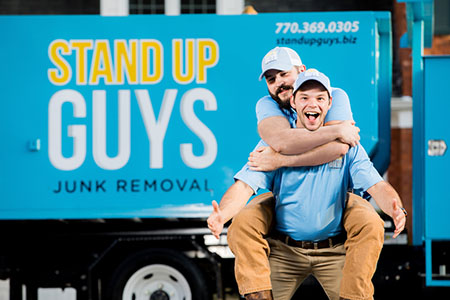 Just a few hours after the encounter at the gas station, that same SUG truck pulled into Janet's Apex driveway. Janet was standing on the front stoop eager with excitement. Spencer and Austin went inside and she showed them everything she wanted to get rid of. There were some old chairs, and old couch, a dresser, table and a few night stands.
Spencer took a look at everything she had, and offered Janet a great price on removing everything. "Great! Let's do this thang!" Said Janet. The two Stand Up Guys didn't need anymore than that, they got straight to work.
Spencer and Austin started with the large dresser in Janet's back room. They took the drawers out one by one and took those to the truck first (safety first is important, drawers can open up and nick walls while you're carrying them). Then they went back and hauled the big drawer to the truck. After that they went in and grabbed the old junk couch as well, and hauled that bad boy out. One by one Spencer and Austin hauled everything to the truck and Janet was clutter free in no time.
"I couldn't be happy enough that I found you guys. I feel like a weight has been lifted off my shoulders. Thank you so much" Said Janet to Austin and Spencer before the went on their way.