Removing Junk Furniture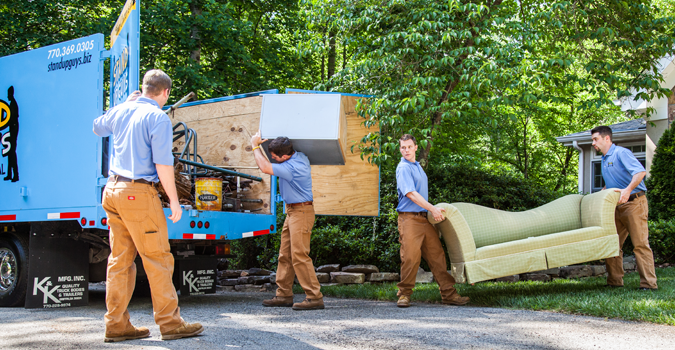 Getting rid of junk furniture can be a serious headache. There are so many moving parts involved and it's nearly impossible to do it all by yourself. Here at Stand Up Guys Junk Removal we don't want you to have to go through the stress and annoyance of trying to remove your old furniture by yourself, that's why we're here. The Stand Up Guys are the number one source for removing old, unwanted furniture from your home or place of business.
Why are The Stand Up Guys Junk Removal Crew the number one source for removing old furniture? Well that's simple. We offer a stress free, relaxing service. From the time you book your appointment, to the time that you watch your junk furniture drive away in our awesomely decorated Stand Up Guys Junk Trucks, your job is easy.
Once you have finally made the decision that you're going to get rid of that old furniture that's been haunting your for years and cluttering up your home, just follow these simple steps. First just pick up the phone and call The Stand Up Guys at 770-369-0305, or you can even make it easier and pick a time you like and schedule your appointment online. Either way you do it, once you schedule the time frame you like, your job is almost completely done.
At the time that you requested, two uniformed Stand Up Guys Professionals will come to your home or place of business. They will offer you a free, up-front estimate on removing all your old furniture. If you like the price that is presented to you, The Stand Up Guys that are there will go right ahead and remove everything right then and there. All you have to do is sit back, relax and watch as you junk furniture disappears.
One other reason that people love to use The Stand Up Guys for their junk furniture removalneeds, is the fact that once we leave you, we do all we can to find a new home for your old furniture. We donate and or recycle all the furniture we can back into the community. Just because that furniture was old to you, doesn't mean it will be old to someone else.
Junk Furniture Removal In Marietta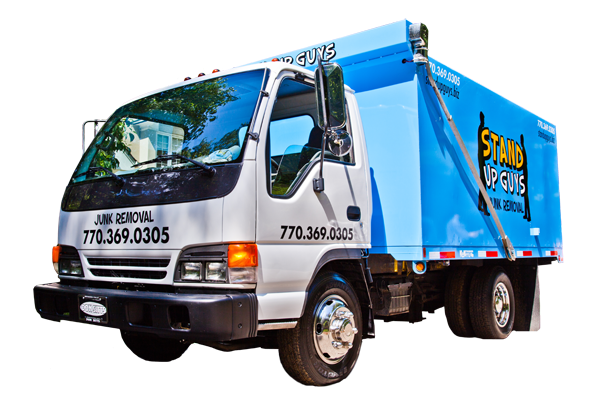 Michael from Marietta called into The Stand Up Guys Junk Removal HQ on Sunday with a few questions. Michael told Carson (the Stand Up Guy that answered his call) that he had some junk furniture at his Marietta home that he needed to have removed. He told Carson he had an old sofaupstairs, a junk table in the kitchen, and an old dresser in the back room. After hearing his situation, Carson told Michael that he made the right call and that we could help him out with everything. They scheduled a time for a crew to come out the next day.
The very next morning, bright and early, Michael got a call from Ross with Stand Up Guys. Ross was calling to give Michael a heads up that he and his crew were on the way to his Marietta home and should be arriving within the next 30 minutes.
30 minutes after the heads up call, The Stand Up Guys Baby Blue Junk Truck rolled into the driveway of Michael's Marietta home. Ross hopped out and walked towards the front door. Michael saw the truck pull in so he headed straight outside and stopped Ross before he even made it to the front stoop.
The two gentlemen chatted briefly, mainly about the weather, sports and fishing. Michael then took Ross inside to show him the items he needed removed. Ross and Michael walked around the house and looked at all the items that needed to go. Ross gathered up all the info he could. Once he knew everything that needed to go, he offered Michael the best price he could for removing everything. Michael loved the price and was ready to get this thing goin!
Ross and Stephen started right away. First they grabbed the massive table that was in the kitchen, and took that out to the truck. Then the dresser in the back room, which they gently took to the truck. After all that the two went for the biggin upstairs. An old heavy sleeper sofa up two flights of stairs. This is a task that would make most men crumble under the pressure. Not Ross and Stephen though. They went right after that big couch and moved it through the house swiftly and smoothly, just like professionals do.
After leaving Michael's, (who was another happy customer) Ross and Stephen headed straight to the local donation drop off center to see if the furniture they had would be of use to a new family.