Furniture Removal Services
Stand Up Guys are a full service junk removal company that allows you to clean out your garage, attic, basement, etc., without you lifting a finger. You point, we lift, period.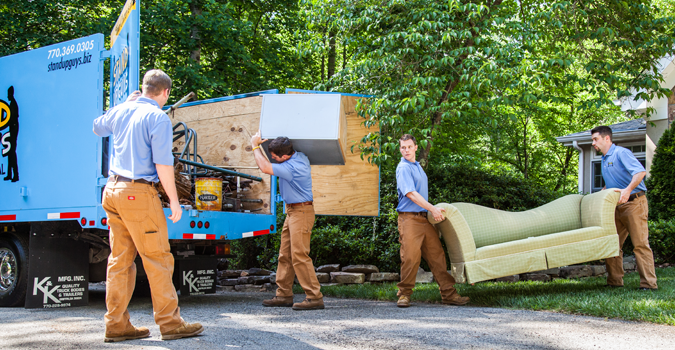 Our furniture removal services include anything that can be found in homes and offices. From sofas and mattresses to cubicles or office desks. Don't worry about gathering your junk furniture in one pile, we perform all the labor and will remove all items from initial location.
If you have a heavy sleeper sofa in your basement, leave it there. If you have an awkward recliner in a small room, leave it there. Or even if you have a giant armoire upstairs that is in one piece, leave it there. And don't worry, we eat our Wheaties everyday!
If you have new furniture being delivered and want to use your old sofa until the day of delivery, no problem, you can schedule a specific time to where we pick up your sofa right before your new furniture is delivered. All members of our crew are experienced and all have experience in moving. So, don't worry about your walls or floors, we take care of it. Accidents do happen though, and if they do, we repair and fix any problem we create.
Furniture Donations
Donations. Donations. Donations! Any furniture we receive that is still in good condition, we donate. From tables and chairs to sofas and everything in between. As long as there is no major rips or stains, they will take it.
Now, if there is a minor fix on a piece of furniture, sometimes they can repair it themselves. It all depends on they type of material and how big the stain or rip is. We have actually teamed up with a local Goodwill in our area. They do not have the means of picking up any donations, so sometimes we provide that service for them.
Only pieces of furniture that we are unable to donate, are mattresses, and understandably so. Mattresses can be disgusting without showing any signs. Bedbugs and other bugs can be on them without seeing it. The occasional thrift store will take them, but they are hard to find. Now, if the mattress is still in the plastic wrapping, then most of the time they will take it.
Furniture Recycling
We also recycle what we can. Metal shelving, cubicles and any other metal furniture pieces will be recycled. Most patio furniture can be recycled as well. We always try to give our customers the best value by stacking everything we can and donating and recycling. So, don't hesitate to call The Stand Up Guys. Let us haul away your junk furniture and dispose of it properly. After all…we are Stand Up Guys!