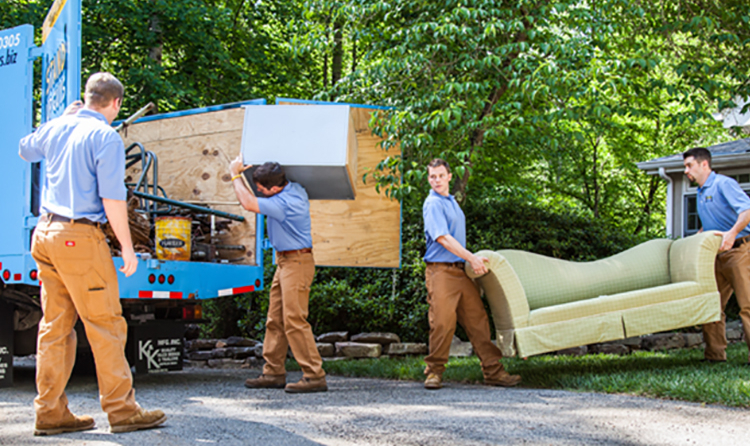 Junk Removal and Donation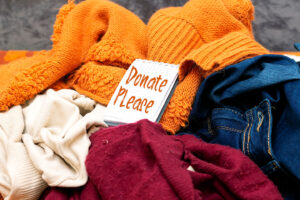 We've all been there- staring at a graveyard of old toys, damaged furniture, and random household items that used to be an essential part of our everyday lives. Now they're just taking up space in your home and causing you to feel stressed out because of the unnecessary mess.
Of course, seasons of life change, kids grow up, and decor goes out of style- leaving you with junk that doesn't serve a purpose anymore.
But how can you part ways with unwanted items that still feel like they still have some life left in them? Throwing it all out to sit in a landfill just doesn't seem right- especially when there aren't any major problems other than the fact that you don't need it anymore.
Donate Your Unwanted Items
Thankfully, there are more options to get rid of your junk and declutter your space other than sending it all to the garbage with last night's leftovers.
A donation is a great way to give your unwanted items to someone who could use them for their benefit, all while ensuring your home is no longer ridden with stuff you don't use!
Whether you deliver your junk to donation centers in need or hire a junk removal company that will remove it and donate it for you, it's essential to know how to find what is donatable and where to donate it.
It's time to get to work and help yourself and others with junk removal and donation!
Find Donatable Junk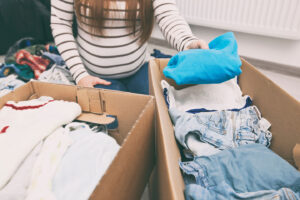 It's easy for your space to feel cluttered and messy with random junk lying around your home, office, or property. It's more difficult to part ways with those items to make that space feel clean and spacious.
You've probably held on to items by telling yourself, "I might need it someday" or "I just don't know if I'm ready to part ways with it." This only leads to more junk sitting around your home when you don't need it.
While those are important questions when going through the junk donation process, we have a few other ones that are likely to make your decisions a little easier.
Ask yourself these questions to help you determine if items around your house are ones you should hold on to or if you should donate them to someone else who could use them more!
When was the last time you used it?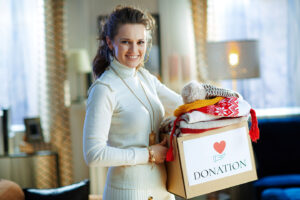 One of the easiest ways to determine if you should keep or donate something is by asking yourself when the last time you used it was.
There's no point in keeping something sitting around your home if nobody in your family has used it in the last few months. Consider giving yourself a cut-off date to make this question less arbitrary.
For example, maybe you decide that six months is your cut-off date. If you or your family members haven't used that old pot in the back of your cabinet in the last six months, it might be a good call to add it to the donation pile. The same goes for any old furniture, small appliances, yard equipment, etc.
Will you use it in the future?
You can even go a little deeper with this question by asking if there is a time you'll use it in the future or if you use it seasonally. This can help you determine if the item will be helpful at a different time or not.
Just remember that even though you probably only use your Christmas decorations for about a month every year doesn't mean you should get rid of all of them! Seasonal items can be stored away to pull out for the right occasions.
Don't be afraid to part ways with items you simply don't use anymore. By taking your junk to thrift stores, a local charity, or a donation center, you'll be able to get more use out of the items you already have and give what you don't to those in need!
Why have you kept it?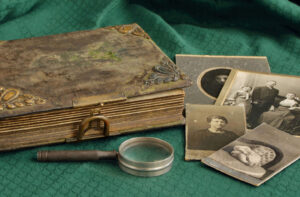 Next, ask yourself why haven't you gotten rid of the items yet? Do you have a sentimental reason for holding on to it? Is it an item you plan to pass along to a family member, or are you waiting for a special occasion to use it later?
Household items you've amassed over the years can be challenging to discard because of these reasons. However, they may still be worth donating to get them out of your hair and into the hands of charitable organizations.
If you have items taking up space in your home that you aren't emotionally attached to and have no plans for using in the future, skip the debate and donate them to someone who could. Why keep something that doesn't have any meaning to? If you don't care about it and don't use it, it doesn't serve a purpose other than taking up space.
Consider your emotional attachment
If you have an emotional connection to a piece of furniture or another item, the decision to keep it or donate it gets a little more challenging. Consider why you're holding onto the item and decide if you need to keep it to keep the memories associated with it.
Use your best judgment here. Pieces like family heirlooms or childhood toys you'd like to give your child someday might be more valuable to hold onto than the bookshelf you had in college, even though they all hold specific memories.
Saying goodbye can be hard
It can be stressful trying to convince yourself to let go of items you've had for a long time. So instead, logically consider the purpose and potential for using the product and if someone else could use it more than you.
Looking at the item from an outside perspective can help improve your chances of making a reasonable decision on whether to keep it or pass it on to someone who can benefit from its use without getting hindered by emotional attachments.
Is there someone else who could benefit from it more than you?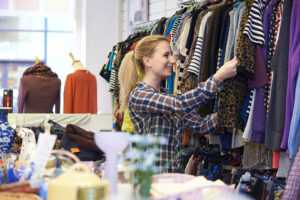 This is a great question to ask yourself to start weeding out the items you should donate and the things you should keep. There are always reasons you can make up in your head as to why you need to keep something, when you might use it, or why you haven't thrown it in the dump yet.
However, if you think about it, why keep something you don't need when someone else could?
Give back with donations
An excellent way to get your mind to accept getting rid of your clutter is by reminding yourself that it's for a good cause. Donating items you don't use to somewhere or someone who will can help you feel better about what you're doing.
When trying to decide whether something should go or stay, ask yourself, could there be a person that has a greater need for the item? If so, don't keep it for yourself to look at every time you pass by as it continues to fill your space. Give it to someone who could use your furniture donation, household items, sports equipment, etc.
Decide Where to Donate Your Junk

Once you've made the hard decision about what items you are ready to get rid of, it's time to decide on the right place to send them!
Let's clear the air first: the trash can is not (usually) the answer. As long as your junk is still usable to some degree, the odds are that a donation center could put it to good use and make sure someone gives it a new home.
Find the Right Donation Center
With so many places to donate your junk, it can feel overwhelming when deciding where you should bring it to ensure it will get to those who need it most.
Think about what junk you have to donate and what its purpose is. This simple practice will help you determine where you can donate your junk depending on the needs of certain thrift stores or donation centers. You can call local donations to ask what they are specifically in need of at that time of year to fund this out. This will help ensure that your donations go to the places that need them most!
For example, maybe the local Salvation Army needs furniture donations. This could be an excellent place for you to take your old couch. On the other hand, Habitat for Humanity may be looking specifically for children's toys. You could bring the toys you're looking to get rid of here.
Donation Centers in Your Community
There are so many places in your community that accept donations, some of which you might not have ever thought about before. Here's a list of some common places you can reach out to find out if they need donations and what they are currently accepting:
Churches
Thrift stores
Police departments
Hospitals
Community centers
Daycare centers
Animal shelters
Goodwill
Salvation Army
Homeless shelters
Orphanages and group homes
What Do Thrift Stores Accept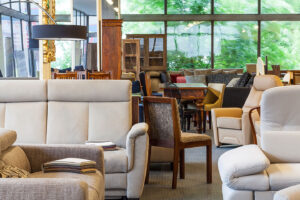 Before you decide to throw all of your donations into one pile and send them off to the same place, you'll need to make sure that your chosen facility can accept your items. Do they take clothing or old furniture? Depending on the time of year, donation centers cut off donations entirely because they don't need others. Other times, they are running low on donations need people like you to bring in your items!
Each donation center and thrift store will have a different policy on what stuff is donatable and what they don't accept. However, some general guidelines apply to most local donation centers.
Acceptable Donations
Furniture
Clothing
Jewelry
Books
Shoes
Art supplies
Home decor
Toys and games
Electronics
Antiques
Unacceptable Donations
While most items are eligible to be donated, not everything in your junk pile will fit the bill. Different donation locations have different needs and standards for their donations, so keep this in mind when going about the process. A general rule of thumb is only to donate items that are in good working condition. Don't be a jerk and use a donation center for discarding old, unusable junk. Here are some things that are generally not accepted:
Broken car seats
Broken home decor
Broken toys
Food items
Stained or broken furniture
Weapons
Old car equipment
Hazardous cleaning materials
Not All Junk Can Be Donated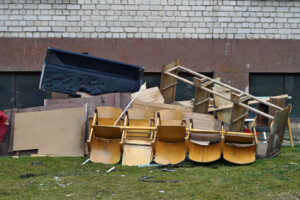 Donating used items is an excellent way to give back to your community and be environmentally conscious, all while decluttering your space! It's a win-win situation!
However, that doesn't mean that every piece of junk you decide to get rid of is appropriate to donate. Organizations and people running donation centers shouldn't have to work through your pile of donations only to find junk they can't use.
Evaluate the Condition of Your Donations
When considering what to throw in the trash and what to give away to help others, take a moment to study the condition of your item. Is it clean and in good condition? Does it still work and have all of the parts? Are there broken pieces that affect the look or function of the item?
Don't pass them on to someone else if you realize that your items can no longer be put to good use.
Plan a Donation Drop Off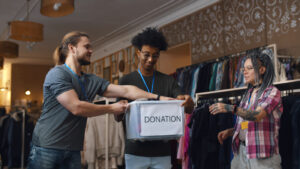 Congratulations! You've picked out the unused items you're ready to get rid of, piled them all up, and are prepared to send them off to the donation center of your choosing! It's time to get the junk out of your house and into the hands of someone who needs it!
Follow these easy steps to plan your donation drop-off.
Call the Donation Facility
When organizing your donations, the first thing to do is check in with each donation site. Confirm that the facility currently accepts donations and what stuff they are accepting.
Describe the items you're donating and the size of the entire load to ensure the center can be prepared for your drop-off. Make sure you know where to take your load and if they will need any help unloading it from your vehicle.
Bring Your Donations
It's time to say peace out to your junk!
Some organizations have staff that comes out to your vehicle and unload everything without any help from you. If you have many heavy items, be sure to bring assistance with you if there is no staff on hand to help you unload.
Schedule a Donation Pickup and Drop Off
Depending on the size of your load, you may have to schedule a donation pick up and drop off.
Discuss your situation with the donation center so they can make arrangements to prepare for the drop-off of your items. They might even have someone they can send to pick up your junk.
Another option is to choose a junk removal service, like Stand Up Guys, for your donation pickup. A company specializing in junk removal has experienced employees and big enough trucks to handle the pickup and drop-off of your stuff.
Junk Removal Services Will Donate Your Junk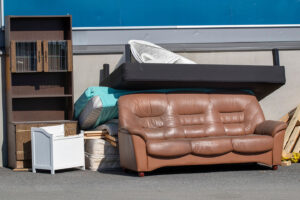 Stand Up Guys Junk Removal is committed to doing our part in eliminating waste and donating as much junk as we can. In fact, up to 60% of what we pick up is donated to local charities and thrift stores. If it can't be donated, we make sure it's disposed of in the most environmentally way possible.
If you're unsure about what stuff you want to donate or get rid of, w will quickly and efficiently sort through your junk to pick out the items that can be put to good use somewhere else. Get a junk removal price estimate today and find out how Stand Up Guys can help you with your junk donation pickups!