Thursday last week, while getting some work done in the office, Spencer heard the Stand Up Guys Junk Removal phone ring. This isn't a rare 0ccurance, especially this time of year with everyone getting rid of junk left over from the holidays. Spencer answered the phone enthusiastically. He was ready and willing to help whoever it was out, just like he does every day.
On the other line was a woman named Joann. Joann explained to Spencer that she was looking junk removal in Cary, NC. She told Spencer that it was junk leftover from the holidays, and clutter her family didn't need anymore. "It's amazing how much junk and clutter can pile up around the holiday season" said Joann. Spencer quickly eased Joann's mind. He let her know she made the right call and that The Stand Up Guys Junk Removal Crew could help her out with everything.
"Well how much is this going to cost" said Joann. Spencer explained to Joann that the price all depended on how much junk she wanted to get rid of. He let her know that he wasn't going to just charge her a set amount. He told her The Stand Up Guys would only charge her for what she had, and nothing else. "We can send a crew out to offer you a free estimate in person, and if you like the price we'll knock it all out right then and there for you. How's that sound?" said Spencer. "Great! Let's set it up" Joann replied.
Junk Removal In Cary, NC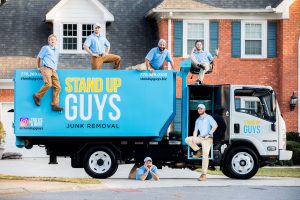 The very next morning, bright and early, The Stand Up Guys Junk Removal Truck came rolling into Joann's neighborhood. She was so excited for their arrival that Joann was waiting out on the front stoop when the truck pulled in.
Austin (a Stand Up Guy) hopped out of the truck and introduced himself to Joanne. The few chatted it up for a bit, then she took him inside to show him the damage. Austin looked over everything that she had, ran the numbers and offered Joanne a great price on removing and hauling everything she had! "WOW, that's way better than I expected. Let's do it!" said Joanne.
Austin didn't need to be told twice. He went straight to the truck, grabbed Fabian (the other Stand Up Guy) and the two got to work. Most of the junk that Joanne was wanting to get rid of was in the upstairs bedroom, so the two Stand Up Guys started with that. They lugged out her heavy couch, old dresser and some bags of cloths. Austin and Fabian were extra careful with the couch because it was in decent condition and they wanted to donate it after the job.
After all the junk in the upstairs was complete, the two finished up with the junk in the garage. The garage junk was easy, it was just a ton of packing material and cardboard boxes leftover from Christmas. Before they knew it, the truck was loaded up and the job was complete.
Joanne was super impressed. She already thought the service was great before the guys even started working, now that she saw how fast and hard the guys worked, she thought The Stand Up Guys were simply AMAZING. See ya next time, Joanne!.