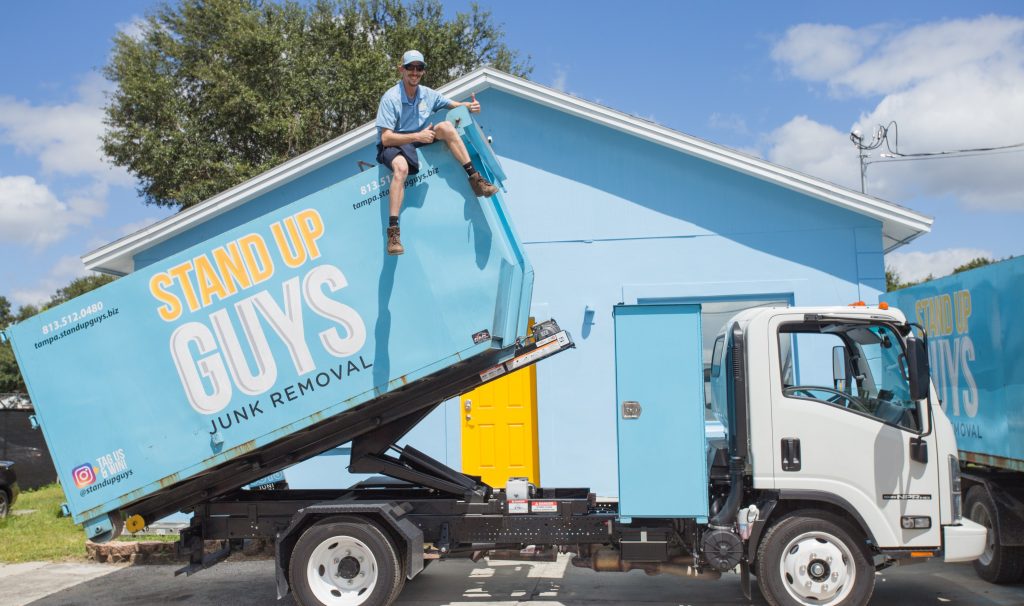 Stand Up Guys… More Than Just Junk Removal
At Stand Up Guys we pride ourselves on being one heck of an awesome junk removal service, but we don't stop there. Not even close. There's so much more to The Stand Up Guys Crew than just 'junk'. Our home services are endless, we're just here to help our customers and make their lives easier. It's really that simple.
The Stand Up Guys can help wherever you need. Looking for just labor services or help around the house or lawn? The Stand Up Guys can help with that. Need help ripping out the cabinets and tile in your old bathroom? The Stand Up Guys can help with that. Need to move a couch from your sisters house to yours? The Stand Up Guys can help with that. Want to get rid of that old rigid play set in the backyard? Don't worry about a thing, The Stand Up Guys can help with ALL that!
The Stand Up Guys offer general labor and general services all over the United States. The Stand Up Guys uniformed, clean cut crews and baby blue trucks will come to wherever you are. We service Tampa Bay, Florida, Metro Atlanta, Georgia, Portland, Oregon, Dallas-Fort Worth, Texas, Raleigh-Durham, North Carolina and Nashville, Tennessee! We cover it all.
More About General Services
Miscellaneous Services
Don't fret over what it's you need assitance with at your home or office. Just give the Stand Up Guys a call, most likely we can help you out. After all, junk isn't all we do.

Two Stand Up Guys will arise at your home and offer a free estimate on site, if you like the price, they'll go ahead and take care of all you need.
Related Services
Stand Up Services
Furniture Rearrangement
Helping Hands
Large Truck Usage
Store Closure Services
Estate Clean Out
Scrap Metal Removal
Tire Removal
Battery Removal
Rubbish Removal
How It Works – General Services