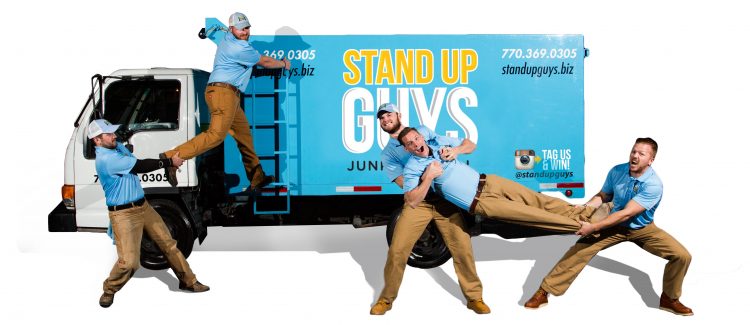 Everyone's Favorite Carpet Removal Service
Have you finally decided to take the plunge and replace that aged, old carpet in your home? Or maybe you are moving into a new office and you want to lay hardwoods down and need the old carpet hauled out. Either way, have no fear, The Stand Up Guys are here!
The Stand Up Guys Junk Removal Crew are your number one option for carpet removal, no matter what. Whether you have ripped it up and rolled it up already and just need it hauled away, or you need the entire project completed from A to Z, we can assist you. The Stand Up Guys are trained and educated in removing carpet.
Dealing with removing carpet and hauling it away can be a serious pain in the behind. We've had many a customer call us after trying to take on this task alone and wanting us to finish it. Save yourself the headache, the heartache and the annoyance, and just give us a call from the get go. Let us take care of the stress so that you don't have too.
Other Junk Removal Services The Stand Up Guys Offer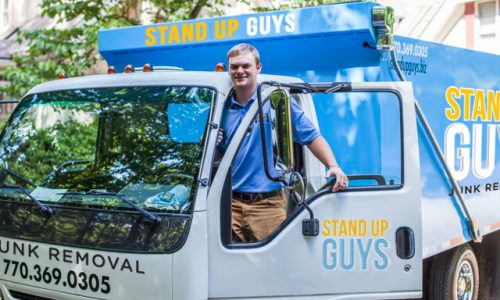 Carpet Removal – How It Works
Hiring The Stand Up Guys Crew to help with your carpet removal project is simple. First, just pick up the phone and give us a call at 1-844-SUG-JUNK. Let us know what day works best around your schedule, and at that time we'll send out a crew to offer a free, upfront estimate on all the work you need completed. If you like, you can even take care of this entire process through our online booking system as well.
Once the Stand Up Guys arrive to your home or place of business and offer you a free estimate, if you like the price presented, we get straight to work. Yes, you read that correctly. We will get to work and get your project finished right then and there.
The Stand Up Guys can move any furniture in the way, rip up the old carpet, padding, tack strips and everything else. Then once we get all that done, we'll haul it all away for you. Like I said, we take care of a 100% of your carpet removal needs. We're the guys for the job.
Don't worry about where you are either, The Stand Up Guys have locations all over! We have branches in Atlanta, GA | Tampa, FL | Raleigh, NC | Nashville, TN | Portland, OR and Dallas, TX.