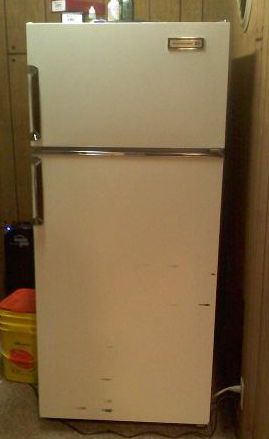 About Refrigerator Removal
Don't strain yourself trying to lug that old, heavy, cumbersome refrigerator up your stairs, around the house, and into the back of your Honda Civic. Let the Stand Up Guys take care of your refrigerator removal for you.
First of all, that is just too much work for any one person to endure. Second, I am not sure that Civic of yours can support such a large refrigerator. Save your self the embarrassment and the stress, and just call The Stand Up Guys Junk Removal Crew and let us handle your refrigerator removal. We will do all the lifting, loading and hard work, (while you sit back and relax).
Just like any of our other household appliance removal, if your refrigerator is in good to decent shape, instead of recycling it, we will take it to be donated. New refrigerators can be extremely costly, so if we can help just one person, or family get a working refrigerator for a small price, we have done our jobs. When you hire Stand Up Guys to handle your refrigerator removal, everybody wins!
Here Are Some Other Appliances We Take: