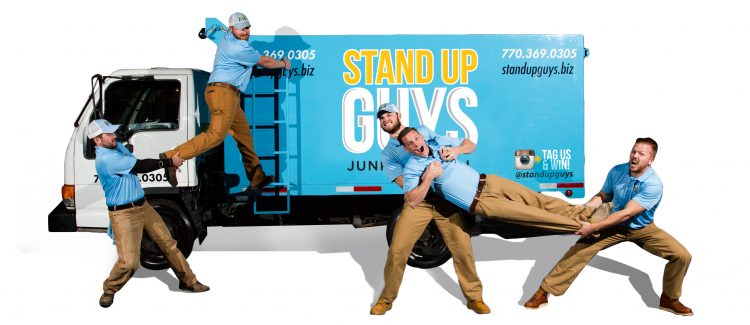 America's #1 Television Removal Crew
Don't waste anymore time with that old television of yours. Big or small, the Stand Up Guys Junk Removal Crew will come and remove it for you, and for a great price! There is no need to deal with the stress and annoyance of doing it yourself either, it will only compound the issue. Let us take on that responsibility and take it off your plate.
Large television sets can be a real pain to move out and remove. They're bulky, heavy, and most of the time in a place in your home far from outside. Don't strain yourself by trying to do all the work yourself. Instead, do yourself a favor and Call Stand Up Guys Junk Removal and let us take care of everything!
We will go in any room or area in your house, pull the TV outside and into the truck. You won't ever have to worry about doing any loading or lifting yourself; just sit back and let Stand Up Guys Junk Removal take care of all your large television and big screen removal and disposal needs!
Small televisions are much easier to handle. They are lighter, easier to carry, and don't take that much time to move. I still would not recommend trying to get rid of your small TV by yourself though, because, if you are like us, you want to help protect the environment. If you try and do things yourself, the outcome could end up being something you don't like.
If a small TV, or any TV for that matter, is disposed of in the wrong way it can be extremely hazardous and harmful to the environment. When you hire The Stand Up Guys Junk Removal Crew to take care of your television removal needs, you can have peace of mind, knowing that it will be handled in a responsible way.
Other Items The Stand Up Guys Remove