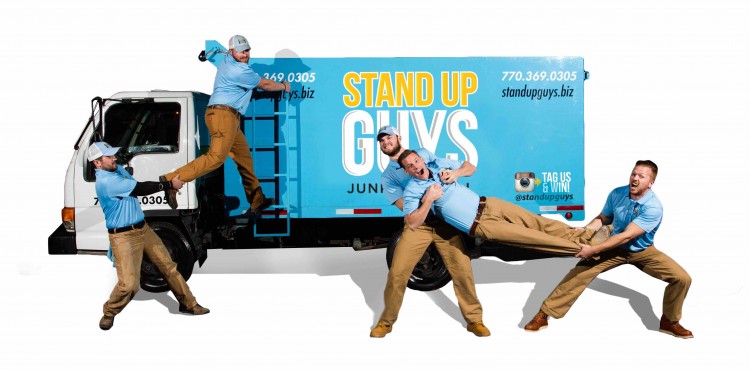 Americas #1 Hot Tub Removal Service
Hot tubs are wonderful to have around, great for relaxation, and healing, but they don't always last. Most people are 100% aware that hot tubs don't have the best durability, but most of us think we're going to fix them when they're broken. That's not always the case, instead they sit around for years and years and eventually turn into junk. That's when you call The Stand Up Guys to handle all of your hot tub removal needs.
It seems like every couple of days, here at Stand Up Guys Junk Removal we run into another old run down hot tub. Most people either buy or rent houses where there was already a hot tub in it, and nine times out of ten it doesn't work. Good thing they have us around to come help out. After all, nobody wants an old junk hot tub laying around.
It's a breeze using The Stand Up Guys to help with all your hot tub removal needs as well. Why? Well that's simple, we take care of everything. All you have to do is let us know where the hot tub is, then we take care of the rest. The Stand Up Guys Crew manages all the heavy lifting, loading, dismantling and hauling!
The Stand Up Guys offer hot tub removal services all over! We service all the surrounding areas from our branches at Atlanta, GA | Tampa, FL | Raleigh, NC | Nashville, TN | Portland, OR and Dallas, TX.
Other Junk Removal Services The Stand Up Guys Offer
How It Works – Hot Tub Removal
Well if you are one of these people that needs to get rid of their old junk hot tub then we can help. The Stand Up Guys deal with recycling and scraping hot tubs on a regular basis, so we know what we're doing. Instead of letting that old hot tub turn into an eye sore, just give the professionals a call.
The Stand Up Guys Crew will take the hot tub from where ever it is inside or outside of your home. We will completely dismantle it and take all the necessary safety precautions to make sure we don't damage anything in your home. After we finish dismantling, or demoing it, we will lift and load everything up in our trucks and be off!
First, just pick up the phone and give us a call at 844-SUG-JUNK and book a time that works around your schedule. For the people on the move, you can go ahead and book your time slot online. Once your time slot is set, your work is pretty much always done!
At the time you requested, two Uniformed Stand Up Guys Professionals will arrive at your home, ready and willing to offer you a free estimate on removing your old hot tub. They are always prepared and ready to work as well. This way if you like the price presented to you, they'll go ahead and take care of everything right then and there!