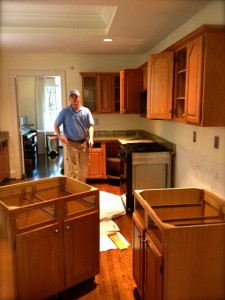 Can't stand looking at those out-dated cabinets in your kitchen or bathroom? Stand Up Guys Junk Removal should be your first call (after you call a contractor to put in new cabinets first of course). When it comes to taking the cabinets down, or ripping them out, that is a job for The Stand Up Guys.
Stand Up Guys Junk Removal will send our trained professionals to rip out the cabinets and remove them at the same time, that way you don't have to worry about hiring two separate companies for such a small and simple task. Also, you can feel confident that your old cabinets won't go to waste, because when we take them down, we make sure to preserve them. Once we finish the job, we donate them to someone who can put them to use.
When you decide to get rid of the old cabinets, just give the Stand Up Guys Junk Removal Crew a call, and we will handle all your Cabinet Demo and Removal needs.
Here are some other areas we can help you: