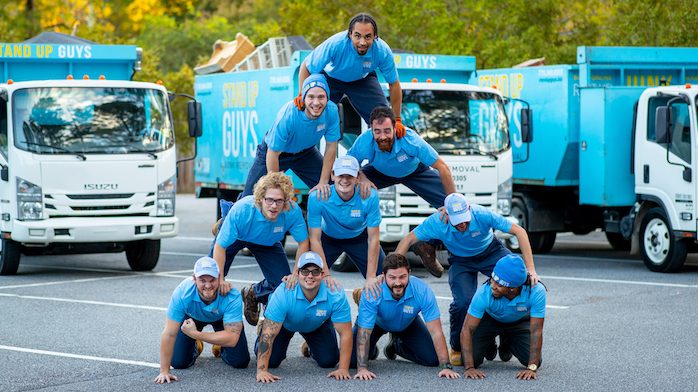 Everyone's Favorite Hot Tub Removal Crew!
Was there a time in your life, maybe 10 years ago or so, that you figured buying a hot tub for your home was a great investment? Did you wind up only using it a few times a year, while the rest of the time it just collected dust? Don't worry, if that sounds like you, you're not alone. Many hot tubs and Jacuzzi's go unused and un-managed for years and years by homeowners. They go unused so long, that eventually the hot tub just turns into junk. That's when the real problem arises. What do you do with a junk hot tub??
Getting rid of old junk hot tubs can be a very strenuous process. That's if you don't call The Stand Up Guys though! The Stand Up Guys Junk Removal Crew are the number one option for getting rid of your old hot tub or Jacuzzi. We take away all the stress and anxiety from the entire ordeal, and make everything as easy as pie for our customers.
The Stand Up Guys manage 100% of the hot tub removal process for our customers. We take care of all the heavy lifting, loading, dismantling and hauling. As a customer, all you have to do is sit back, relax and watch as your old junk hot tub rides away, out of your life forever. One more thing, you don't have to sweat about where the hot tub winds up either. The Stand Up Guys dispose of all hot tubs 100% legit and environmentally safe.
Other Items The Stand Up Guys Crew Haul
How It Works – Hot Tub Removal
Getting rid of your old junk hot tub is a breeze with The Stand Up Guys Junk Removal Crew. I mean it, it's as easy as pie. First, just pick up the phone and give us a call at 844-784-5865 (SUG-JUNK) and let us know your situation and when you'd like to schedule an appointment. You can also go ahead and book all that straight through our website online. Whatever is easiest for you.
At the time that you requested, two uniformed Stand Up Guys Professionals will come out to your home and offer you a free, up-front estimate on removing your hot tub. The Stand Up Guys always come prepared and ready to work as well. This way, if you like the price, they can go ahead and knock everything out right then and there. See, easy as pie!
The Stand Up Guys offer hot tub removal all over! We remove hot tubs from all our branches, including Atlanta, GA | Tampa, FL | Sarasota, FL | Raleigh, NC | Orlando, FL | Jacksonville, FL | Nashville, TN | Dallas, TX | Austin, TX | Portland, OR and more! Just give us a call and let us remove that old hot tub today!