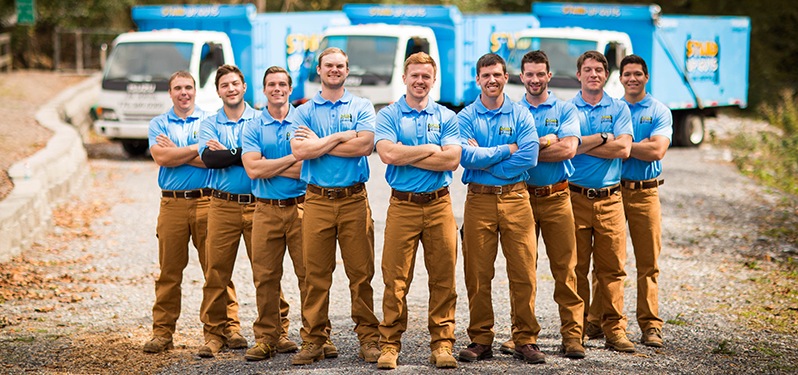 Raleigh's Most Revered Yard Debris Removal & Hauling Crew
There is one thing a majority of home owners have in common. They absolutely LOVE having a nice, clean, manicured lawn. In order to have this nice lawn, you have to put in the work though. You have to clean up loose debris, rake leaves, the whole nine. The problem that a large percentage of homeowners face is what to do with the debris once they have it all cleaned and collected. We know you can't just throw tree limbs in the garbage, so what do you do? The answer to that question is simple. You call The Stand Up Guys!
The Stand Up Guys Junk Removal Crew is the number one choice for getting rid of all your yard debris and lawn waste. The Stand Up Guys offer the best customer service and value on all your yard debris removal needs. We make your experience so great, it's worth remembering.
When you hire The Stand Up Guys to assist you with your yard debris removal needs, your job is done. All we require you to do, is point out what it is you'd like removed and we take care of the rest. Just sit back, relax and watch as your yard debris disappears.
How It Works – Yard Debris Removal
If you have heard enough, and you are convinced that you're ready to give The Stand Up Guys a shot at helping you with your yard debris removal needs, then it's time to get started. Since you have already made the decision to get rid of your yard debris, your first step is completed. The next step is to pick up the phone and give The Stand Up Guys a call at 919-719-0556 to book your free estimate now.
At the time you requested, we'll send out two, very handsome, uniformed Stand Up Guys professionals to offer you a free, upfront estimate on removing everything. Stand Up Guys always come prepared and ready to work as well. This way if you enjoy the price that is presented to you on-site, we'll go ahead and take care of everything right then and there for you. We make it all as simple as possible.