Lawn Bags & Debris
Your lawn bags can turn into a headache quick. Not only have you spent all the time loading the bags yourself, but now the trash company won't take them? Normally, if you have only a handful of bags, your trash company will take them. But if you have a large amount of bags, you are stuck with the eyesore indefinitely. That's where we come in. We dispose of anything you need, quick, fast and in a hurry. Everything is disposed of properly and we use different locations all over Metro Atlanta.
Below is a recent project we did where Daniel was overloaded with yard debris and started getting complaints from neighbors. There is only so much the people around you can take when you have 100's of yard debris bags stacked up along the side of your yard and Daniel completely understood that. Especially in a neighborhood like Daniels in Johns Creek.
Lawn Bag Removal In Johns Creek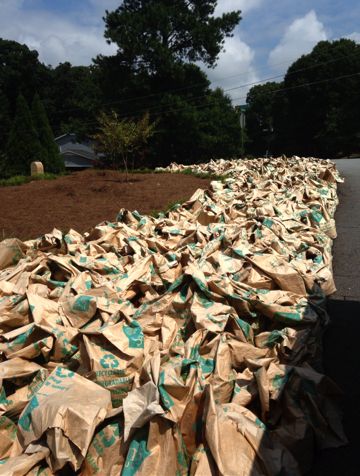 Daniel was in the process of an entire yard makeover. After figuring out the plans for his yard, he then hired a landscape company to start the removal of the landscape debris. Dirt, pine bark, juniper bushes and grass were all being cleared out from his front yard and placed in the lawn bags. Slowly, the pile kept getting bigger and bigger to where eventually it was taking up his whole front yard. After the last bag was filled, it didn't take long for neighbors to start complaining. There were over 100 bags and it is easy to see why the neighbors started to complain.
Daniel was now stressed out with process of trying to dispose of the bags, FAST! He asked the landscapers if they would take it but they had no means of getting the bags to the vegetation waste. Next, he did a quick Google search and found The Stand Up Guys Junk Removal Crew and decided to give them a call.
Ryan answered the phone and was anxious to send out a crew after hearing of his situation. That same day, Clark 'The Machine' and Corey 'The Matador' were headed that way and amped to take down this monster. After arriving, Clark and Corey soon realized that this was no easy task. These bags were heavy. And through the blistering rays of sun, this took a toll on both of them. They had to do multiple trips and worked on the job for almost five hours.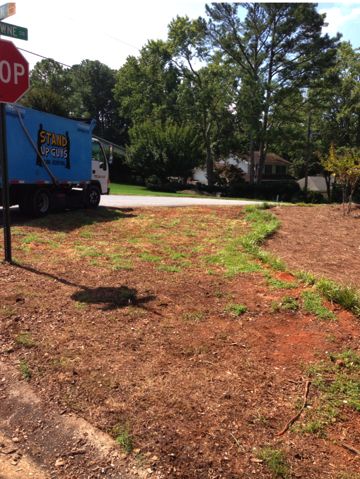 As Corey was lugging the last bag into the truck, the bags rips…and it was all dirt. Corey was devastated. But "no worries" Clark said, he let Corey go sit in the truck with A/C while Clark swept up the remains from the bag. Clark then knocked on the door to show Daniel that the final bag was loaded up and the job was complete. Daniel was speechless. Something that started out as an unexpected problem, was solved the exact same day! Needless to say, Daniel was impressed and became a customer for life after witnessing this miracle. This job would later become known as "Miracle on 44th Street."
Daniel and Clark settled up and the blue crew were gone in a flash. Daniel never forgot this day and still tells tales of this adventure to all of his friends and family. He is a customer for life and is now Stand Up Guys approved!