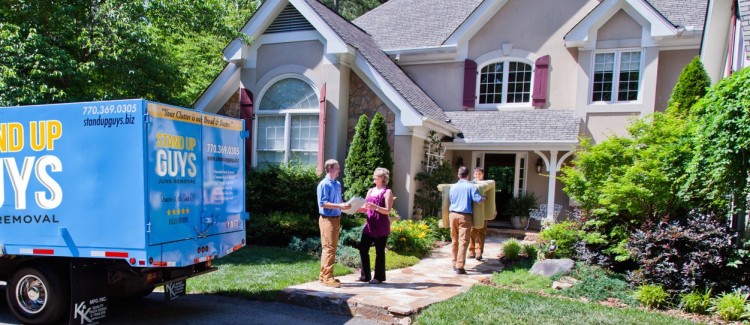 Angier's Favorite Junk Removal Crew
Do you live or work in Angier? Are you looking to get rid of junk or debris cluttering up your home or place of business? If this sounds anything like you, then I we have the PERFECT solution to your junk woes. The Stand Up Guys Junk Removal Crew! It doesn't matter what you have, The Stand Up Guys will take it. From old household junk to debris from the yard and everything in between.
The Stand Up Guys are more than just Angier's number one option for removing junk and clutter out of your home, we're 'Angier's FAVORITE Junk Removal Crew!' That means a lot to us, and we do all we can to maintain that stellar reputation with the people and businesses of Angier. On every visit we make to every customer in Angier, we ensure that they are 100% satisfied with our service.
One way we make sure that all our customers of Angier are happy is that we make it so that they don't have to lift a finger. When you hire The Stand Up Guys to help you with your junk and clutter issues, your job is done. We take care of all the lifting, loading, hauling and disposal for you. All we ask that you do is point out what you want gone, then watch us take care of the rest. It's really that simple.
Junk Removal Services The Stand Up Guys Offer In Angier, NC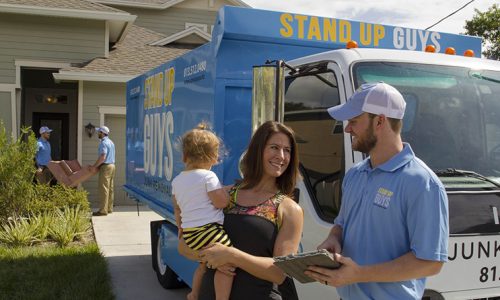 More About Junk Removal in 

Angier, NC

Angier is one of Harnett Counties number one cities, and part of the Black River Township. Angier is not the largest city around, with a population of just over 4,000, but what Angier lacks in size, it makes up for in awesomeness.
Angier is a wonderful city. Well-known for it's quite streets and great schools, Angier is a top destination for young families looking to raise their children. People move from all around the Raleigh-Durham area to live here. "There is no other place I'd rather be, it's that simple" – Happy Angier Resident.
There are a lot of perks to living in a cool place like Angier, but one of, if not the best perk of all, is that you have access to the Worlds Greatest Junk Removal Crew. The Stand Up Guys!