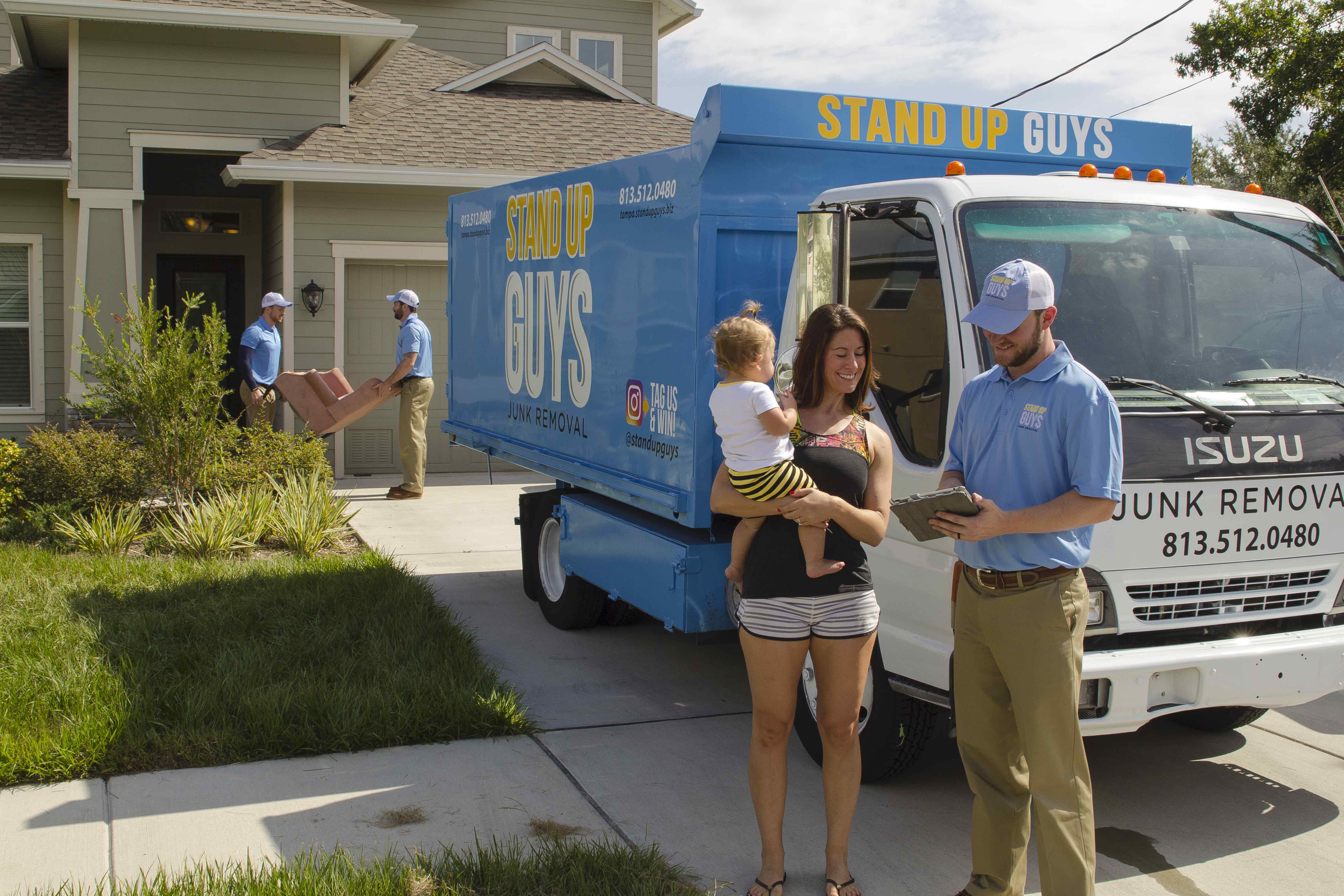 CHARLOTTE JUNK REMOVAL – NORTH CAROLINA
Charlotte, North Carolina is not only a great city, it's a one-of-a-kind type of city. We're talking about amazing weather, awesome people, thriving economy and even a cool place to visit. This city is what the American Dream is all about! There is one other thing about Charlotte that people seem to just fawn over and that's the fact that the residents and businesses of Charlotte have access to the 'Greatest Junk Removal Company on Planet Earth'! Yup, you guessed it; The Stand Up Guys Junk Removal Crew.
The Stand Up Guys are Charlotte's most beloved and trusted junk removal company. We have earned a stellar reputation in Charlotte and the rest of North Carolina over the years because of our outstanding customer service and customer care. We go above and beyond to make sure that our customers are 100% satisfied with their Stand Up Guys experience. No matter what it takes, we'll make our customers happy. That's just ONE of the reasons that Charlotte loves The Stand Up Guys Junk Removal Crew.
Another reason why Charlotte is all about some Stand Up Guys is the fact that we will take anything and everything that they need. When you call us to come get rid of your junk, you don't have to fret over whether we will haul it away or not, because the answer is YES! We remove it all. From refrigerators, couches and other household junk, to yard debris, construction material and appliances we remove everything. This gives our Charlotte customers peace of mind. They dont need to worry about a thing after they hire The Stand Up Guys. They just get to sit back, relax and watch as their junk disappears.
CHARLOTTE JUNK REMOVAL SERVICES
More About Junk Removal in Charlotte, NC

We must admit. There is more to Charlotte than just a great junk removal company. Like we mentioned before, Charlotte is a wonderful city and an amazing place to live. Charlotte is a booming city to boot. It's the largest city in the great state of North Carolina with a population of over 850,000 people and is also the 16th most populated city in the entire country! The metro area of Charlotte has over 2 millions people. These are insane numbers and there is a reason. This many people are flocking to this awesome city because of all the perks, that us Charlotteans no all too much about! Charlotte is packed with world renowned museums, tons of parks, performing arts and sports. Anything you want to do or anyone that you want to become, you can do it right here in Charlotte.
The Stand Up Guys Junk Removal Crew are here to help the residents and businesses in this amazing city. We service the entire Charlotte Metro Area from The Mint Museum Downtown to the great suburbs surrounding the perimeter like Kannapolis, Concord and more! It's time to pick up the phone and give The Stand Up Guys of Charlotte a call today at 704-266-3094.
Cities In/Nearby Charlotte We Cover
China Grove
Cornelius
Davidson
Fort Lawn, SC
Harrisburg
Lake Norman
Lake Wylie
Lincolnton
Marvin
Mount Holly
Monroe
Stallings