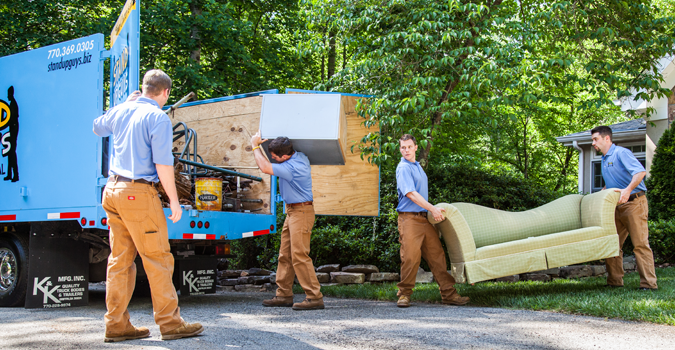 Clayton's Number One Junk Removal crew
Live or work in Clayton? Need to get rid of some unwanted junk, debris or clutter? Well if any of this sounds remotely like you, then I have the perfect solution to your junk problems, The Stand Up Guys Junk Removal Crew. We are the number one solution for junk removal and hauling in all of Clayton and all the surrounding cities.
Why are The Stand Up Guys number one in Clayton? Simple. We have the best customer service and value around. No matter what you need to have removed, or where it is, the professionals at Stand Up Guys will assist you in hauling it away. We take care of the entire 'junk removal' process from beginning to end. As a customer, you don't have to lift a finger. Just let us know what you want hauled away, and we'll take care of the rest.
Worried that we might not take what you have? Don't. The Stand Up Guys will remove and haul any and everything, big or small. From a garage full of junk and clutter, to a yard filled with debris, or even just a refrigerator. It doesn't matter, we'll take care of you. That's how we've earned the stellar rapport we have in Clayton.
Junk Removal Services We Offer In Clayton, NC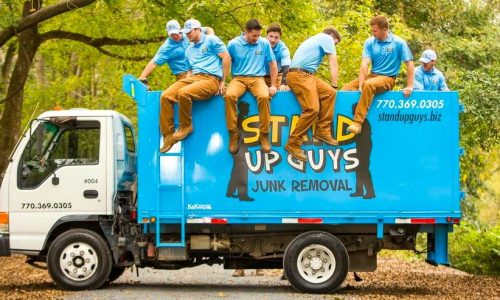 More About Junk Removal in Clayton, NC
Clayton is one of Raleigh's most attractive towns, and it has tons of history to boot. The town itself which has grown into Clayton was actually started as a road cut by Governor Tryon's troops around 1770 as they marched North from New Bern to Hillsborough against the Regulators. Almost a hundred years later the railroad came through and the community had its first name—Stallings' Station. 'Stallings' was short lived though, as three years later the name officially became Clayton. Incorporation followed in 1869.
Clayton has boomed since way back in the day. The city now has well over 16,000 residents that call the great city home. It's a very popular suburb of Raleigh. Lots of people plant their roots in Clayton and commute to Raleigh for work. It's an amazing community to raise a family in.
One of the best perks to living in Clayton though, is having access to the greatest junk removal crew in the country. The Stand Up Guys Junk Removal Crew!