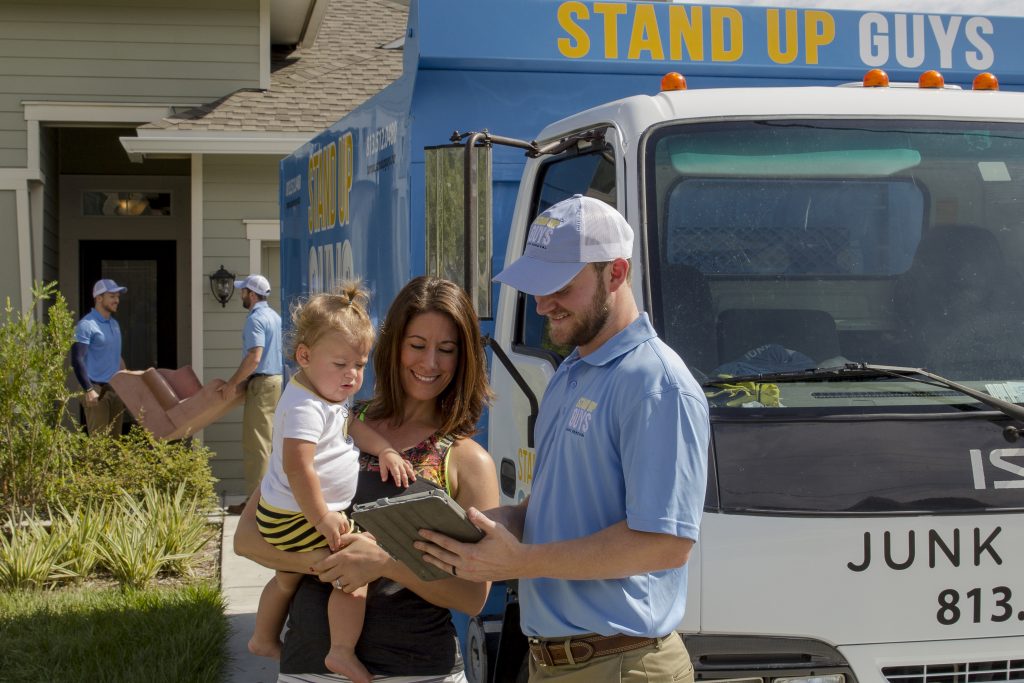 North Raleigh's Best Junk Removal Service
Some define North Raleigh, North Carolina as anything north of 440 while others say anything of north of 540. But one thing is for sure, wherever that blurred line fades is where you fill find the wonderful suburb of North Raleigh and it has a unique feel all of its own! Even though it's in such close proximity to Raleigh it really does maintain its very own identity. If the faster pace of Raleigh isnt quite for you North Raleigh is where you might want to be! And just like in Raleigh one of the big advantages to North Raleigh, is having easy access to the greatest Junk Removal Company on the US. The Stand Up Guys Junk Removal Crew!
The Stand Up Guys are well-known are quickly gaining a reputation as the #1 Junk Removal Service in the North Raleigh area. And one of the biggest driving factors in that would be our dedication to customer service and a 100% satisfaction guarantee. Hiring The Stand Up Guys Crew to help you with your junk removal needs, is more than just hiring someone to help you haul off some junk but rather a friendly helping hand you will be sure to fall in love with and look forward to calling back again and again.
It doesn't matter if you are looking to clean out an old closet or clear out your entire garage, whatever it is you are looking to get rid of The Stand Up Guys Junk Removal Crew will haul it out for you. We take everything from old junk furniture and appliances, to yard debris and everything in between. The Stand Up Guys also donate and/or recycle everything we can. We are able to recycle more than 60% of the items that we remove from North Raleigh alone.
Services We Offer In North Raleigh
North Raleigh, otherwise known as 'North of the Beltline' is not only one a suburb of North Carolina's largest, most beloved cities, it's sits just outside the state capital. North Raleigh is quickly become the place to settle down for families that are looking for a slightly more suburban feel . With the combined population of over 400,000 residence North Raleigh is no longer the best kept secret in North Carolina but rather one of the hottest up and coming suburbs to move to.

With Raleigh just a stones throw away North Raleigh has easy access to some of the countries best cultural experiences, educational institutions, and historic sites. Duke Energy Center, Coastal Credit Union Music Park, are just a few of many amphitheaters and popular theater venues in the area. The city is also home to many incredible museums like The North Carolina Museum of History, The North Carolina Museum of Natural Sciences and more.
Cities In/Nearby North Raleigh We Cover
How It Works – North Raleigh Junk Removal