Stand Up Guys Junk Removal Locations – Vancouver, WA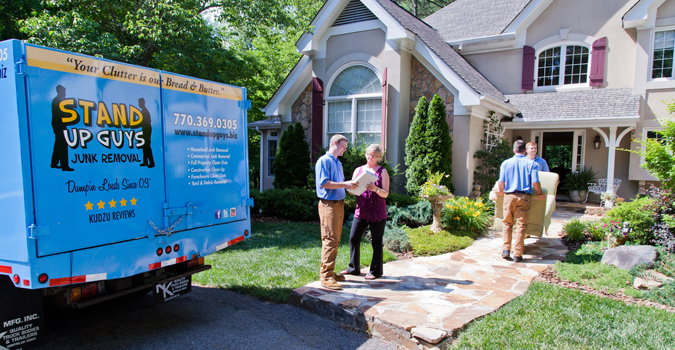 There is only one name in Vancouver junk removal that matters, and that's Stand Up Guys. The Stand Up Guys Junk Removal Crew is unmatched in customer service and value all throughout the Vancouver area. That's just some of the reasons that the people and businesses of Vancouver use the Stand Up Guys.
If you are looking to get rid of some old household junk, appliances, yard debris, construction trash or even clean out your office the Stand Up Guys are perfect for your situation. After all, getting rid of junk and helping people clean out spaces is what we do.
We don't just trash all your items in the landfill either. We filter through everything that we remove from our customers so that we can donate or recycle all we can in order to ensure that nothing goes to the landfill that doesn't have to. We donate and or recycle more that 60% of the items that we remove.
Few of the Services We Offer Vancouver


Garage Clean Outs
Storage Unit Clean Outs
The beautiful city of Vancouver Washington has been around for a long time, it was actually incorporated as a city way back in 1857. Through the years Vancouver has grown into a beautiful and pretty big city too. It's actually the fourth largest city in Washington.
Vancouver was a big part of helping America in WWI & WWII. Vancouver opened up an Alcoa Aluminum plant in 1940, it used inexpensive power from the Bonneville Dam with turbines. Also, after the bombing of Pearl Harbor Vancouver opened up a shipyard for US Army Reserve. The shipyard manufactured liberty ships, LST's, and "baby flat tops." The influx of workers from the ship yard sent the population of Vancouver skyrocketing from a measly 18,000 all the way to 80,000 people.
Stand Up Guys Junk Removal have a central location at 16055 SW Walker Road. Suite 283 Beaverton, OR 97007. We also cover these Vancouver zip codes: 98660, 98661, 98662, 98663, 98664, 98665, 98666, 98667, 98668, 98682, 98683, 98684, 98685, 98686, 98687.
More About Vancouver
Fun Fact: In 1956 Willy Nelson began his musical career in Vancouver. He started by recording 'lumberjack' in Vancouver.

Check out the Regional Manager for your area. Beaverton Regional Manager.
Find out 'What We Haul' in Vancouver.