Russell's Discovery of Stand Up Guys Junk Removal
Russel from Suwanee had himself a bit of an issue in his backyard and he didn't know where to turn or who could help him out. Russel's issue was a big ugly shed that had been rotting away in his backyard since he moved in three years ago. He'd put up with it til now, but with his plans to put a pool in the backyard, it was time for the shed to go.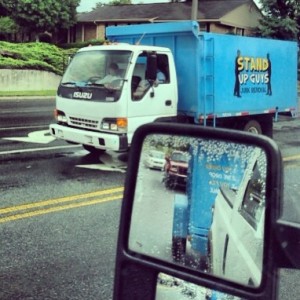 Russel searched around for a few minutes on the internet, with no luck. Before he went into more in-depth searching for someone to remove the shed he decided he would go to the deli and get a sandwich. From the few minutes he spend on the internet he figured it would take a while to find a company, and he didn't want to do it on an empty stomach.
While at the local deli, Russel ran into Samantha, an old friend of his. After exchanging pleasantries the subject of Russel's old shed came up. He told Samantha about his problem and that he was worried he'd have to do all the work himself. "Let me stop you right there" said Samantha. "I have the perfect solution to your problem."
Samantha went on to tell Russel all about this great company that helped her remove debris from her home in Atlanta a few months back. Yes, you guessed it, she was talking about The Stand Up Guys Junk Removal Crew.
Samantha informed Russel that The Stand Up Guys would be perfect for his situation and handed him one of the business cards that she held onto after working with us. She told Russel to call us right away.
Russel's Call Into Stand Up Guys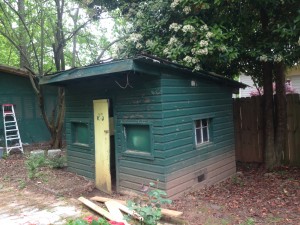 That very same day, when he got home, Russel picked up the phone and called the number on the card. It rang 2 or 3 times and then Carson picked up on the other line and greeted Russel.
Russel explained his little shed issue to Carson and what he needed done. Carson told him that taking down and removing the old shed from his Suwanee home would be no problem at all, and we could actually be out there as soon as he liked. Russel was blown away by the immediate customer service, turns out ole Samantha was right again.
Russel asked if Carson could have some guys out that Friday to look at the shed. Carson told him that would not be a problem at all. Russel then gave him all the info he needed and that was that.
Shed Removal in Suwanee
That Friday, bright and early, Christiaan and Paul rolled up to Russel's Suwanee home in the Stand Up Guys Junk Truck. They weren't just there to try and help Russel with his shed, they were there to get down to business and show him how the Stand Up Guys roll!
Christiaan went up to the front door and greeted Russel. After a brief chat, the two men went around back to check out the big bad mamma jamma that was Russel's shed.
Christiaan took a good long at the shed. He analyzed every inch of her, this way he would know exactly what kind of tools he would need, how long it would take and how much room it would take up in the truck once it was down.
After his in-depth analysis of the shed Christiaan offered Russel the best price he could. Once again Russel was shocked, "You guys just keep getting better and better" he said. Russel loved the price and told Christiaan they could get started whenever they pleased. Christiaan assured him that he was ready to rock and roll now.
Christiaan went back to the truck and informed Paul of what was about to go down. The two men grabbed all the tools they would need and dragged them to the backyard. They then strapped up their boots and got down to business.
First Christiaan busted out the sawzall and started to cut the pillars that held up the roof. Once he those cut, the two Stand Up Guys climbed up on separate ladders and threw the roof off and onto the ground. Once it was on the ground they hauled it together to the truck.
That was the hard part, now all they had to do was use the sledgehammers to take down the walls. Then use the prybar to pry up the wooden foundation. After each part was taken down, they hauled it to the truck. Christiaan didn't want a big mess in Russel's yard at any one time.
Before they knew it, the shed was down and all of it was hauled off to the truck. Russel came out and was oh so happy to see his nightmare was finally over. Now all his obstacles in the way of his new pool were gone. Russel couldn't have been happier, and he expressed that to Christiaan before they left.
Another happy customer in the books!