The Stand Up Guys & Rally Foundation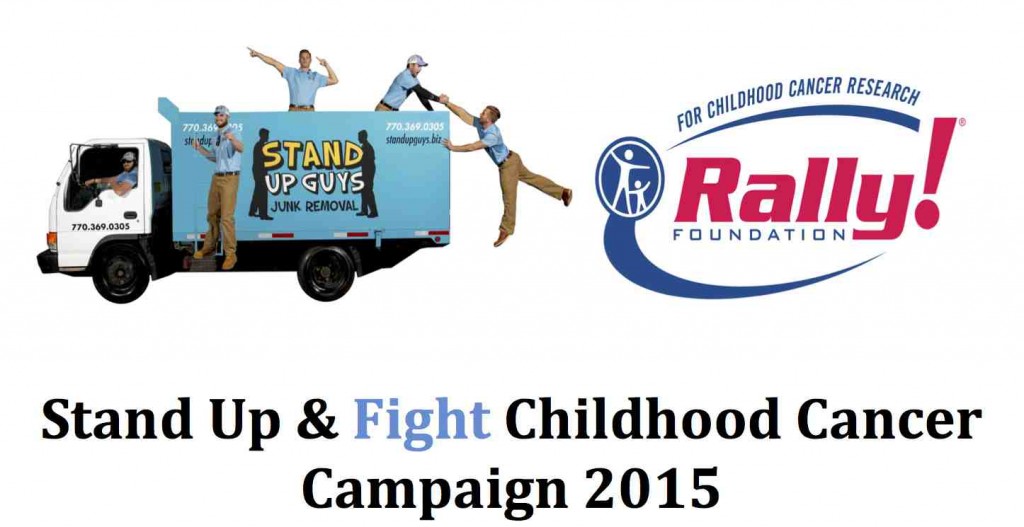 The Stand Up Guys Junk Removal Crew has teamed up with The Rally Foundation again in efforts to raise money for our annual campaign goal of $20,000. The 'Stand Up and Fight Childhood Cancer' campaign launched on January 1, 2015 to help support childhood cancer research.
The Stand Up Guys chose childhood cancer research because children's cancer is quite different than adult cancer and needs different treatments as well. Adults tend to get lung, breast, prostate and colon cancers. Kids tend to get brain cancer, solid tumors and a different kind of leukemia than adults. Most of the treatments for cancer are not designed for children.
Also, childhood cancer research is underfunded by more that $20M each year. Even though our goal is nowhere near that, we know our donation will change lives.  Since 2005, Rally! has donated more than $5.25M in research grants.
Right in our backyard, in Atlanta at Children's Healthcare of Atlanta, Rally has supported a Bone Marrow Transplant Clinical Research Nurse and is currently supporting a Clinical Research Statistician. They also supported the collection of tissue samples for a tumor bank and the associated research, as well as supported the collection of DNA samples and long-term survivor follow-up data. Over 400 patients have been enrolled since receiving funds from Rally in March 2009. The total number of patients enrolled is 719 with 606 DNA specimens and 372 baseline surveys collected from long-term survivors.
The Stand Up Guys are always looking to help the community anyway we can and we believe we have found the one of the best ways with this campaign. We are donating $1 for every job we do this year. Last year we did close to 4,000 jobs and we expect this year to be much bigger. If you would like to help us reach our goal you can go to http://rallyfoundation.org/ and donate however much you please.  Anyone and everyone is open to this campaign, so there are not restrictions to who can donate. EVERY DOLLAR COUNTS!
So if you or anyone you know would like to help out, please check out the link. There are many ways to donate, not just though our campaign. You can directly help a family in need or participate on one of many Rally! Foundation events!