Battle Of The Boxes 3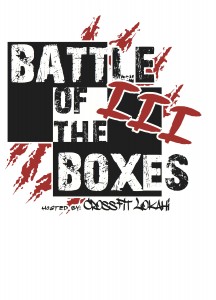 Stand Up Guys have been fans of Crossfit for some time now and each year it grows more and more in popularity. The new fitness craze has taken the world by storm in the last few years and Stand Up Guys has delved into the storm.
Crossfit Lokahi is hosting their third 'Battle of the Boxes' this weekend and Stand Up Guys is helping sponsor the event. Lokahi is located in Woodstock, Ga near Dixie Speedway, for more info on the box go to www.crossfitlokahi.com. We will be raffling off some workout equipment and will have a tent set up alongside one of our beautiful trucks that will be empty and ready for any junk to be thrown in it as well. So if you're in the neighborhood and have some junk you want to get rid of for free, come on by!
Stand Up Guys are the #1 choice for full service junk removal in the Metro Atlanta area and we can prove it. We love to take care of our customers and will do anything to make them happy. So if you miss out on the free junk haul this weekend, don't worry, we will have another event in the near future where we will help out our community.