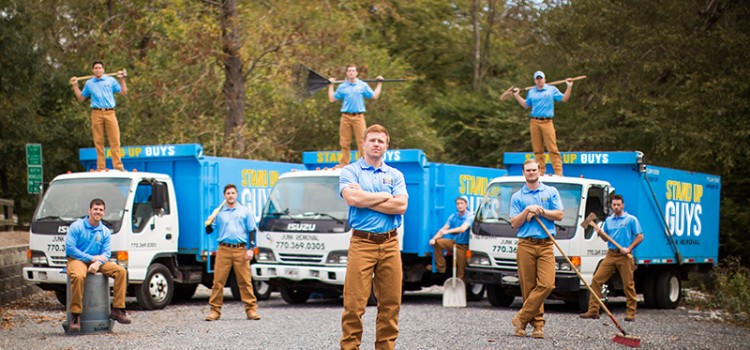 Brentwood's Most Revered Junk Removal Crew!
There are a lot of wonderful reasons to live in Brentwood, and a boat load of perks as well. With that said, easily one of the best reasons to live or work in Brentwood  is the fact that you have access to the greatest junk removal crew there is. Yep, you guessed it. The Stand Up Guys Junk Removal Crew!
The Stand Up Guys will remove any and everything for the residents and business owners of Brentwood. We haul household junk, yard debris, construction debris, old furniture, hot tubs, appliances and more. You name it and we'll remove it for you. That's not all. On top of removing anything you have, we take care of all the labor as well. This means we manage all the heavy lifting, loading, cleaning, clearing and hauling so that our customer don't have to lift a finger. All you have to do as a Stand Up Guys customer is, sit back, relax and watch as your junk disappears.
The Stand Up Guys have earned an excellent rapport with the people of Brentwood over time. We've earned this reputation due to top notch customer service, customer care and value. Not to mention we donate and or recycle more than 60% of the items that we remove, back into the Brentwo0d community. The people of Brentwood love to have peace of mind when hiring Stand Up Guys, because they know that their old 'junk' will find the right home.
Just Some Of What We Haul In Brentwood
Household Junk Removal
Cubicle Removal
Shed Removal
Brentwood is easily one of the most well-known, sought after, affluent suburbs of Nashville. Brentwood is known for it's rolling hills, beautiful homes, amazing scenario and renowned as one of the wealthiest towns in the entire country. Brentwood is a popular place as well, with a growing population of over 40,000 people and over 11,000 homes.
There's also a lot of history to Brentwood as well. The first known residents of Brentwood were prehistoric Native Americans, dating back before the year 1300. Even they knew this was a great spot to be in way back when. Years and years later, early settlers would find Brentwood and call it home. Many families that settled in Brentwood back in the early 1800's, still own land today. Shortly after the beginning of the Civil War, almost all of Brentwood was destroyed. This didn't slow down progress for long though, the city was back on it's feet and prosperous soon after.
Now Brentwood is home to many star athletes and musicians like Keith Bulluck and Garth Brooks. It's become such a wonderful place to live and everyone knows about it. Brentwood is 'the place to be' in Nashville.
How It Works – Junk Removal Brentwood
Hiring The Stand Up Guys to manage your junk removal and hauling needs in Brentwood is a cake walk. Once you have made the decision that you're finally ready to rid yourself of all that unwanted junk it's time to schedule a free estimate with The Stand Up Guys.
Just pick up the phone and give us a call at 615-647-0634 and let us know what time works best for you. Or you could even schedule it all yourself with our online booking system. At the time requested, two uniformed Stand Up Guys Professionals will arrive at your home or office. If you like the price presented to you during your free estimate, the guys on-site will get right to work then and there. They'll have all the junk out of your hair in no time! See, a cake walk.