Goodlettsville's Number One Junk Removal Service
In Goodlettsville there is only one company that the people and businesses count on for all their junk removal and hauling needs. It's a company that stands tall above all others in quality, customer care and value. Yup, you guessed it. It's The Stand Up Guys Junk Removal Crew!
The Stand Up Guys are the number one junk removal company in Goodlettsville, and also the favorite among the people. The Stand Up Guys Crew have earned their rapport from Goodlettsville over the years through wonderful customer service, great prices and giving back to the community.
The Stand Up Guys remove any and everything from the people and businesses of Goodlettsville. You name it and we'll remove it for you. From appliances and household furniture to construction trash and yard debris, we take it all. Not only do we take everything, we do it all with a big smile! Why? Because we love our jobs and we love Goodlettsville.
Junk Removal Services We Offer Goodlettsville, TN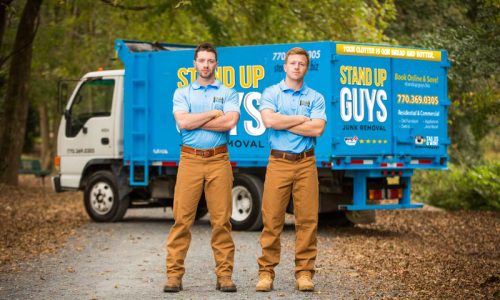 More About Junk Removal in Goodlettsville
Goodlettsville is a great place to live for many reasons. Yes, it's great that living in Goodlettsville means you have access to the greatest junk removal company in the world (The Stand Up Guys), but it means even more than that! Goodlettsville is a wonderful place to live, visit and work. It has it all. People come from far and wide to raise their family in a great community like this.
Goodlettsville has some history as well, the city dates back to when it was first incorporated in 1958. Back then the city's population was somewhere around 3,000. Not the population has ballooned to over 15,000 people! There is also well over 5,500 homes and 3,800 families in Goodlettsville as well. This shows you that it's a place that people want to be.
A fun little fact about Goodlettsville is that in 2012, a little league baseball team from the city participated in the 2012 Little League World Series! That's a big deal around these parts. They even made it all the way to the championship game. Gotta love it.