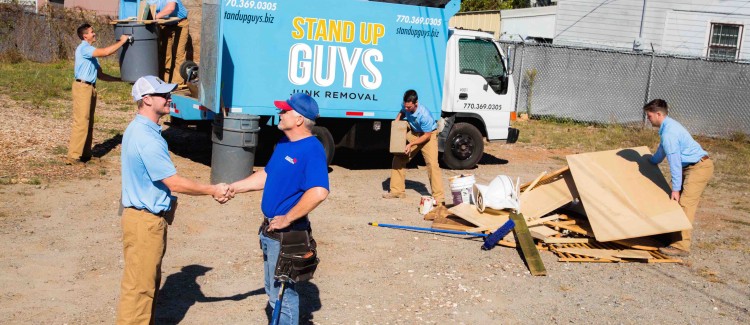 Hendersonville's Favorite Junk Removal Company
Are you exhausted from looking at all the junk and clutter in your home that has been piling up for years? Or maybe you're just sick and tired of the loose debris in the backyard that no one has cleaned up? Either way, if you're ready to move forward with your life and get rid of the junk and clutter bogging you and your home down, and you live in Hendersonville, I have the perfect answer to your problems. The Stand Up Guys Junk Removal Crew!
The Stand Up Guys are not only Hendersonville's Favorite Junk Removal Company, but we're the number one junk removal company as well! The Stand Up Guys service all of Hendersonville. This includes all the residents and businesses in the area.
The Stand Up Guys Junk Removal Crew are Hendersonville's favorite for a few different reasons. One reason being that we offer the best value in junk removal and bulk trash pick up all throughout Hendersonville. You wont find a better price for what you get with The Stand Up Guys. Another reason, we take care of everything! When I say 'everything' that's exactly what I mean. The Stand Up Guys manage all the heavy lifting, loading, cleaning, clearing, hauling and disposal for our customers. This means, as a customer of Stand Up Guys, all you have to do is sit back, relax and watch as your junk disappears. You don't even have to lift a finger.
In Hendersonville, the Stand Up Guys donate and/or recycle over 60% of the items that we remove. This is another one of the reasons we have gained such a stellar rapport with Hendersonville. Anything we can find a new home for, we do. This way we don't overfill the landfills with unnecessary junk AND we are able to give back to the community. It's a win win.
Some Of The Items We Haul
Shed Removal
Hot Tub Removal
Basement Cleaning
More About Hendersonville, TN
Hendersonville is a large, vibrant city north of Nashville. It's a growing city as well with over 54 thousand residents that call Hendersonville home! Hendersonville is a great place to visit, work and live. It was ranked as one of the top 10 cities for families in America by Family Circle Magazine. Now that's a statement!
There is a ton of history behind the city of Hendersonville as well. The city was first settled by Daniel Smith way back in 1784. Just six years later, William Henderson settled there as well, after how much potential he saw in the area. The city was later named after William. Years and years later, with the completion of the Old Hickory Dam in 1954, Hendersonville started to grow into the most populous city of Nashville, and that stands to this day.