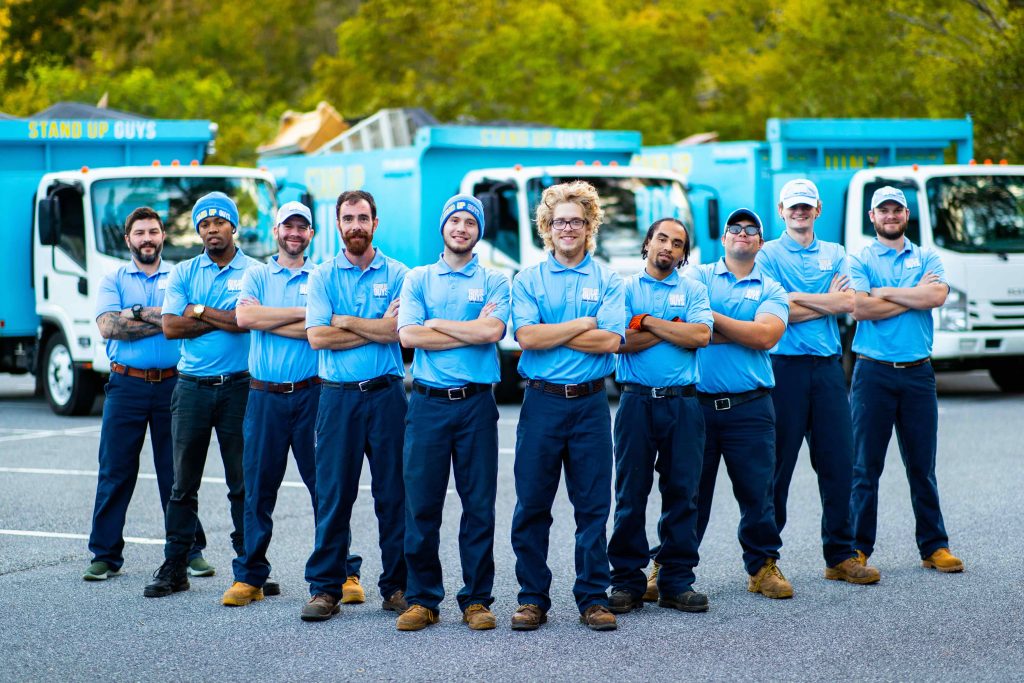 Most Coveted Junk Removal Crew In Murfreesboro – The Stand Up Guys
Getting rid of unwanted furniture, junk, debris and overall clutter can be a real pain, a strain on your life and on your stress levels. There are just too many steps for your average person to take in order to get rid of junk on their own. Well, if you are stuck in this situation, or just need to get rid of some junk and clutter from your home, then don't worry, I have the perfect solution to your problem in Murfreesboro. The Stand Up Guys Junk Removal Crew!
The Stand Up Guys are the number one junk removal and hauling company in all of Murfreesboro. We're number one for quite a few reasons too!
One reason why The Stand Up Guys Junk Removal Crew are #1, is that we have unmatched customer service. Our customers and their needs always come first at Stand Up Guys. We make sure that our customers are 100% satisfied from beginning til end.
Another reason why we're #1, is the fact that we take anything. Yup! When I say anything, I mean it. There isn't a single thing that The Stand Up Guys Junk Removal Crew won't remove in Murfreessboro. We remove household furniture, yard debris, appliances, old sheds, we clean out cluttered garage, construction debris and everything in between.
Yet ANOTHER reason why The Stand Up Guys are the#1 choice for junk removal and hauling in Murfressboro, is what we do with your items after we remove them. The Stand Up Guys donate and/or recycle over 60% of all the items that we remove. This means that we find a good home for your old items and don't just chuck everything into the landfill. This is good for not only the environment, but the community as well.
Junk Removal Items The Stand Up Guys Remove!
More About Murfreesboro Junk Removal
Murfreesboro is an absolute terrific city and the largest in Rutherford with a population well over a hundred and twenty thousand people! Making Murfreesboro one of the largest cities in the entire state of Tennessee and the fastest growing city in the state by far. With that many people, you know that it has to be a great place to live, and trust me it is. Murfreesboro is an awesome place to live, visit, work and even raise a family. It has it all.
Murfreesboro is home to Middle Tennessee State, which is the largest undergraduate university in the state of Tennessee, with well over 25,000 students.  That's one of the reasons that Murfreesboro was ranked as the 84th best city to live in in the United States by Money Magazine!
Murfreesboro has a lot of history as well, dating back to post Civil War times. During the Civil War though, Murfreesboro was wrecked in many different ways. The battle of Murfreesboro alone had over 23,000 American casualties. The city was able to recover though, soon after the civil war.
By the early 1900's the city was back on the rise and gaining momentum. Murfressboro never looked back! Tons and tons of Colleges and higher education starting popping up everywhere. Giving Murfreesboro the nickname 'The Athens of Tennessee.'