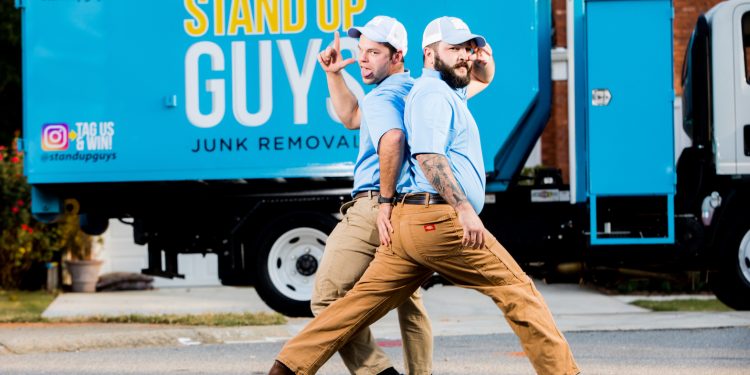 Carrollton's Favorite Junk Removal Crew!
'Junk' – What a complicated and complex word. Junk can mean a number of things to everyone. It's a word full of endless meanings to all of us. The one thing that a large majority of us have in common though, is that 'junk' is something that's an annoyance in our lives and a commodity we all want to be without. Whether that is junk in our homes, offices, lives or even junk in our minds. Junk is rarely, if ever, a welcomed thing. No one want's clutter.
Don't worry I'm not here to simply feed you the synopsis of the word junk, or the issues it causes in your life. Nope! I'm here bearing great news. The great news is if you live or work in Carrollton or any of the surrounding areas of Dallas – Fort Worth, then you don't have to stress and worry over junk in your lives any longer. Why? Simple. You don't have to worry any longer because you have access to the greatest Junk Removal and hauling company on the map; The Stand Up Guys Junk Removal Crew!
The Stand Up Guys are well-known as Carrollton's Favorite Junk Removal Crew! We are known in the Carrollton area for our amazing customer service, our ability to take away all the clutter and disorder in your homes and basically do whatever you need to get order and space back into your life. We are here to help wherever we can for our customers.
The Stand Up Guys will take any and everything for our Carrollton customers! We remove household junk, yard debris, moving junk, construction debris or anything you can come up with. The Stand Up Guys Junk Removal Crew manages everything as well. We take care of all the heavy lifting, loading, cleaning and hauling. This means you don't have to touch a thing. Just point out what it is you want gone and we'll take care of the rest!
Services Stand Up Guys Junk Removal Offer In Carrollton
More About Carrollton Junk Removal
Carrollton is one of the largest suburbs/cities in all of the Dallas – Fort Worth area and even one of the largest towns in all of Texas! Carrollton is actually the 23rd largest city in Texas, and that is saying a lot given how many large, populous cities the great state of Texas has. The Stand Up Guys cover every square inch of Carrollton and we service all of it's amazing residents and businesses.
There is a ton of history to the great city of Carrollton as well. Carrollton dates back to when it was first settled on by Jared Ford in 1842. Most of the original settlers to the area were from the midwest, in the Illinois area. Most think that the city was named after their original home town of Carrollton, Illinois. In most of it's early years Carrollton was strictly an agriculture town, it wasn't until the 1870's and 1880's that it became more of a industrial town. This was mainly due to the construction of the Dallas-Wichita railroad that ran straight through the city. This would change the course of Carrollton for the next hundred years or so.