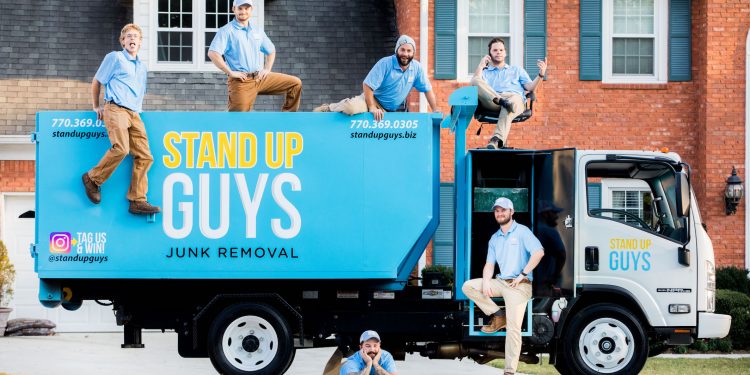 North Dallas's Most Outstanding Junk Removal Crew
Do you have a unwanted items piling up in your home or place of business? Or maybe you have a massive pile of yard debris stacked up in the backyard after last weekends yard work? Either way, if you are looking to get rid of ANYTHING and you're located in North Dallas, then I have all the remedy to your junk woes. The Stand Up Guys Junk Removal Crew!
The Stand Up Guys are the number one option for junk removal and hauling in the North Dallas area. For both home owners and businesses. It doesn't matter what you need to have hauled away, or what area you need cleaned out, The Stand Up Guys are here for you. We manage jobs large and small. From a customer just looking to get rid of a refrigerator and a couch, to a business looking for an entire office clean out, or even a construction site clean up, we can handle it all for you!
The Stand Up Guys have earned the great title as North Dallas's Favorite Junk Removal Crew over the years for a few different reasons. One major reason being our attention to customer service and customer care. At Stand Up Guys we believe that our customers and their needs are more important than anything else! We ensure that all of our North Dallas customers are more than just happy with our service, we want to make sure that they are WOW'd by it.
Junk Removal Services The Stand Up Guys Offer In North Dallas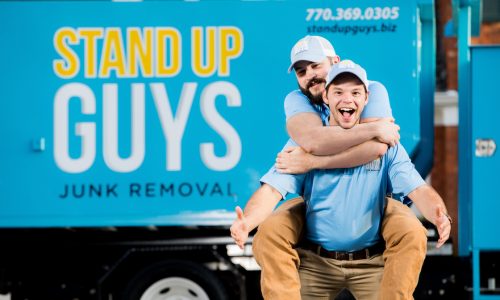 North Dallas is known as the large area north of Downtown Dallas full of numerous communities, neighborhoods and a few cities. Most of what's considered 'North Dallas' is in Dallas County, but some of the areas flow into Denton and Collin County as well. This area of the city is known as the most affluent part of Dallas, which is a reason why it's such a popular destination for people looking to move to the Dallas area.
Because of where it is located, between the Downtown area of Dallas and the northern suburbs like Plano and McKinney, North Dallas has it all! You get the trendy city vibe on one corner in a southern neighborhoods, and the 'family' vibe on the other corner in a northern portion. North Dallas has everything anyone is looking for and more. Looking for a great day of shopping with the family? Try out Gallaria Dallas for all your shopping needs. Or maybe you are looking for a relaxing day at the local library, try out Park Forest Branch Library. Anything you need, North Dallas has.
North Dallas Neighborhoods
Araglin Court
Arlington Park
Audelia
Brookshire Park
Caruth Hill
Churchill Way
Churchill Pointe
Bluff View
Devonshire
Greenway Parks
Hamilton Park
Hillcrest Forest
Melshire Estates
North Park
Meadow Glen
Midway Crossing
Midway Hills
Midway Hollow
Pagewood
Park Forest
Preston Hollow
Stoney Crooks
Stemmons Corridor
Vickery Meadows
Waterford
Webb Chapel