The Most Adored Junk Removal Crew In The Colony – Stand Up Guys!
Clutter is the worst. It's that simple. No one likes a cluttered home, cluttered office or a cluttered life. Junk and other unwanted items bog us down, cause clutter and unnecessary stress in our lives. On top of all that, junk is a pain to deal with. Especially when you are wanting to remove it from your life. Deciding what to get rid of, what to throw out and what you don't need is hard enough. It gets even harder when it comes time to physically remove it. You need extra hands, a vessel that can transport it, then after all that is handled you need to find a place to bring all your unwanted crap. The entire process is a nightmare. Unless you live in The Colony that is!
If you are a resident or business in The Colony you are in luck, my friend. Being in The Colony means you have access to the greatest junk removal and debris hauling service on Planet Earth! Who is this great company you ask? None other than Stand Up Guys Junk Removal! The Stand Up Guys are the number one source for junk removal and debris hauling in The Colony and have been for years!
The Stand Up Guys have built a stellar rapport and un-penetrable reputation over the years with the people of The Colony. We have built this through years of amazing customer care, offering great value and doing all that we can to give back to the community that has been so great to us. The Stand Up Guys do all that we can to ensure that our customers in The Colony are 100% wow'd with their service every single time they use us. Our customers are of the utmost importance to us.
Many Services Stand Up Guys Junk Removal Offer in The Colony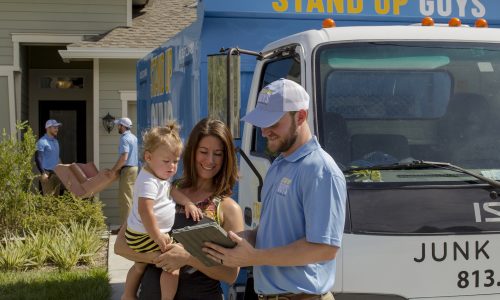 More About Junk Removal in The Colony
The Colony is one of Dallas' most beloved and sought after suburbs. There are more than 41,000 residents that call The Colony home and over 8,00 households and that number is growing every single day. The word has gotten out about this great suburb and people are migrating here in droves. The businesses are following right behind them. The Colony is home to many large businesses and many are soon to follow. It was also ranked as Sports Illustrated 50th Anniversary Sports Town of The United States back in the early 2000's.
There is a lot of rich history in this great little city as well. The name derives from it's original name of Peters Colony, the name didn't change until the 1970's. The area that is now known as The Colony dates back to the Hedgcoxe War of 1852. So to say it's been around a while is an understatement. The area wasn't a popular suburb until the early '80s though, when they started building small communities all over the area and the great school system started to sprout around the same time.