Stand Up Guys Hauling Trash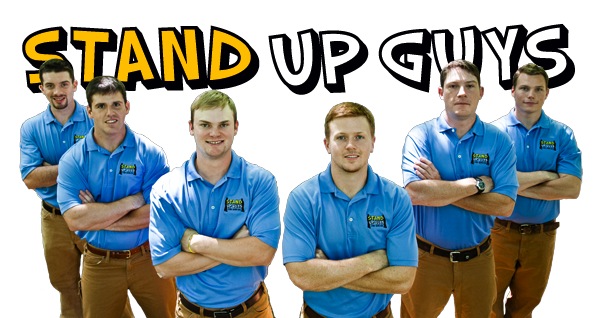 Is the trash and junk piling up in your home to the point where there is no hope for you doing it yourself? Well if this is the case then I have the perfect answer to your problem. You need to hire yourself the best trash hauling service around, the one and only Stand Up Guys Junk Removal Crew.
The Stand Up Guys can take care of your trash haul away needs no matter how big or small your project might be. Also, don't worry about what kind of trash you need hauled away either, because no matter what the trash is, the Stand Up Guys can handle it.
The Stand Up Guys not only take any and all types of junk and trash from your home or place of business, but they also do it all for a great price and with giant smiles on their faces. Every young man that works here at Stand Up Guys has their own personal stake in the company. So you will always be treated like your dealing with the owner of the company.
Customer Service On Your Trash Hauling
Now I will admit there isn't only one company out there that can haul away your bulk trash. Actually there are tons of companies that can do that for you, but the question becomes can they do it right? Now this is why it can be a little tricky for homeowners to choose a trash haul away service.
It's tricky because it's hard for everyone out there to know who is legit and who isn't. There are a few steps though that one can take to ensure that the company they are hiring to take out there junk and trash the real deal, or their just a fly-by-night crew.
First, make sure the company you call is insured. You don't want any company out at your property or place of business working with heavy trash if their NOT insured. They could get themselves hurt, and if they do their lawyers will be looking in your direction, and nobody wants that kind of hassle. A company not being insured is probably the biggest red flag for you, if they aren't look in another direction right away.
Second, look the company your interested up on the internet. The internet is a great way for people now-a-days to look up companies and find reviews, prices and much more about their past. If you see anything that is alarming to you, or shows that this company doesn't have their customers as their main priority, then take this as a red flag and move on to the next.
There are many other ways to find out about companies before hiring them to come out to your home to get rid of your junk and trash, but those two first ones are the most important factors. If either of those don't check out then move on.
Pick The Right Guys
I can give you the perfect company though, the company that checks out in every aspect. That's the Stand Up Guys Junk Removal Crew. The Stand Up Guys are bonded and insured, as well as have a fantastic reputation on the internet and with their customers all over the Metro Atlanta area.
When you are picking a trash hauling company the Stand Up Guys are perfect. They offer customers the best pricing and the utmost respect and customer service to boot. You can't go wrong when you choose the Stand Up Guys for your trash hauling needs.