Cleaning Out Junk From A Wearhouse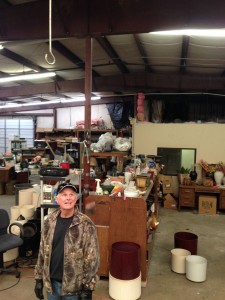 Huge property clean outs, like warehouses, can be a very long and strenuous process. Usually the customers have just sold or bought the property and need to get in cleaned up by a certain date, which can stress you out beyond belief. Having a deadline can make it very hard to find the resources in time to have it completed.
Many people use dumpsters when cleaning out huge warehouses, and in most cases, that's the best route. But you have to have the resources at your fingertips. You have to have a flat ground for the dumpster to lay on, laborers to fill it and then you have to rely on the dumpster company picking it up when they are suppose to. With Stand Up Guys, we are your one stop shop for the entire clean out.
The Stand Up Guys provide their own trucks so there's no worries about cracking the parking lot or being late on the pick up. We also have our own uniformed professionals to fill the trucks that are more than qualified. After everything is loaded up, we will broom sweep or blow all the remaining dirt, dust, etc.
Warehouse Junk Clean Up In Atlanta
We recently had a customer that had ONE week to clean out the his entire warehouse. He knew a dumpster was out of the question because he is disabled and there was no time to schedule drop offs and pick ups while also looking for labor.  He did some searching for property clean ups and found The Stand Up Guys Junk Removal Crew online.
He had no idea how this worked or what he needed to do, so we came out that day to give him a free estimate and sit down with him to explain everything we needed to do. He loved the idea that we were going to take care of the whole removal & hauling process and he just had to stay in contact with one person instead of someone new everyday.
The whole process was going to take about 5-6 days…we hoped! If we had to designate a second or third truck, we would, and we did. This of course landed on the week with the worst snow traffic in Atlanta over the last 30 years. This put us back a day and a half and tensions began to rise.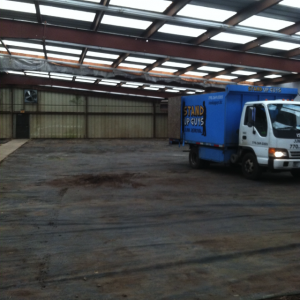 The owner was now worrying if he would have it cleaned out in time for the new owner, but we assured him we would do anything to complete the job in the allotted time. If we had to rent a truck we would have, but thank goodness we didn't. If a dumpster would have been rolled off onto the property, everything would have been pushed back weeks for the pick up to finally come.
After the snow and ice melted, we were able to have two trucks there for the next three days and the job was finally completed…in the time frame! We were able to take everything he needed removed from old riding lawnmowers to 12 ft high Christmas trees. A total of 25 loads and 6 days later, the warehouse looked as good as new and was in perfect condition for the new owner when they arrived.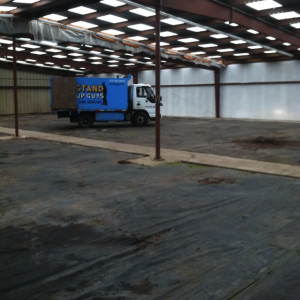 Helping a customer in a bind like that is why we do what we do. We treat each job as if it is at our own home and we want it cleaned up and looking nice in the blink of an eye. Cleaning out a garage so a car can finally be parked in there again, or cleaning out a basement for a family member to move in is what we like to do. Our job helps in so many ways and we love seeing the satisfaction on our customers faces when the job is all done. Give us a call today and let us see what we can do for you!