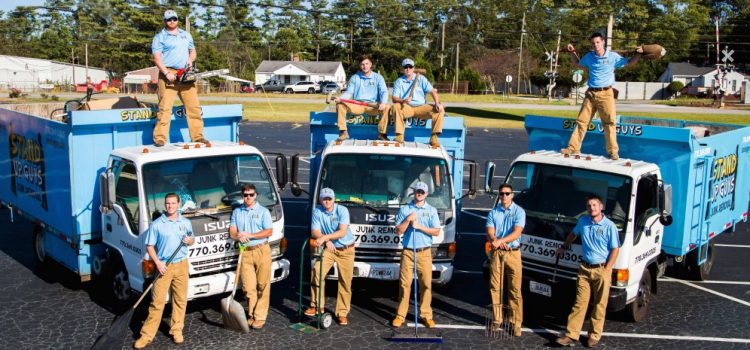 America's Favorite Basement Cleaning Service
Cleaning all the junk & clutter out of your own basement can be a major hassle and an even bigger inconvenience. It's something that just has to be done at times though. Make it easy on yourself and call in the experts at Stand Up Guys Junk Removal to help you with all your basement cleaning needs.
The Stand Up Guys can handle all your basement cleaning services. Whether your basement has turned into a storage unit for all your junk from over the years, or you're doing some clearing out to make room to finish your basement. Either way, The Stand Up Guys Junk Removal Crew will take care of everything!
We'll take out any and all junk from your basement too! We'll even rearrange any furniture or other items you want moved around AND we'll finish by sweeping up and making your basement look spotless. That's just part of our customer service guarantee.
Don't hesitate any longer! Pick up the phone and call the Stand Up Guys Junk Removal Crew to cleanout that basement! It's time to get your space back, and free your mind and your basement of all that unnecessary junk, and all that clutter!
Other Services The Stand Up Guys Junk Removal Crew Offer
How It Works – Basement Cleaning
After reading this page and learning more about us, are you convinced now that you want to hire The Stand Up Guys Junk Removal Crew to help you with your basement cleaning and junk removal needs? Of course you are! Who wouldn't love The Stand Up Guys! Well, I have more good news for you. Hiring The Stand Up Guys Junk Removal Crew is a breeze!
Once the decision has been made that you're ready to clear the junk out of your basement, simply pick up the phone and give us a call at 1-844-SUG-JUNK and let us know a time that works with your schedule. You can also go straight through our website and use our Online Booking feature if you would rather do everything over the computer.
At the time that YOU requested, two uniformed Stand Up Guys Professionals will come to your home and take a look at everything you are looking to get rid of. At that time we will offer you an free, upfront estimate on removing everything. Since we always come prepared and ready to work, if you like the price presented, we'll go ahead and take care of all the removal and hauling right then and there! See, told you it was a breeze!